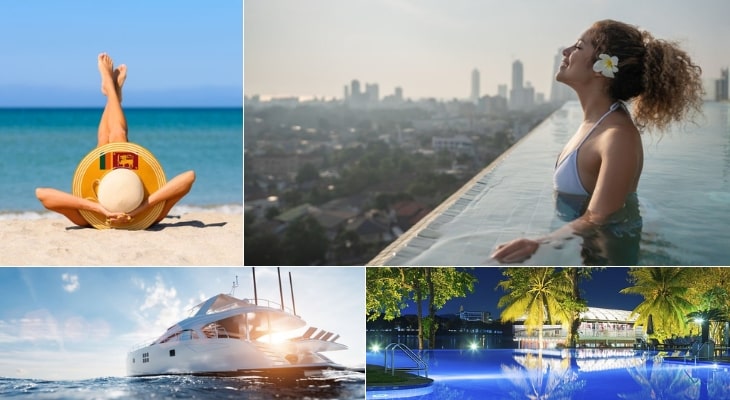 Sri Lankans are exceedingly warm and welcoming, with brilliant grins on their faces. Don't be startled if a stranger invites you to tea or a family meal at their home. In Sri Lanka, this is extremely common. Traveling in Sri Lanka is simple, and one of the nicest aspects of luxury vacations to Sri Lanka is that, due to the country's small size, nothing is too far away.
Also, Sri Lanka is a country that offers so many activities, adventures, locations, accommodations and cuisines to all kinds of travel maniacs around the world. Apart from this, it is one of the most beautiful tropical islands in the world for some rest and relaxation while being sprawled out on a sunny beach or in a luxurious ayurvedic spa.
There are many kinds of travellers who come seeking the pleasures of Sri Lanka including adventurers, backpackers, hikers and also luxury-seekers. Luckily for those who seek to spend their location in a luxurious way, Sri Lanka is jam-packed with star-class hotels, restaurants and luxury transportation options.
From luxurious five-star plus hotels to three-star hotels, travellers can choose from a choice of Luxury Tours in Sri Lanka. You can also easily avail of other luxury tourist transport services, from boarding private helicopters to luxury cars for your travel needs. Sri Lanka offers private inland flying options in private helicopters, offering magnificent views of the country and featuring one of the fastest ways to travel.
There are many small ports and establishments that offer private yacht or boat tours into the gently lapping waves and from there to the deep blue of the Indian Ocean, where you're adventurous The soul can take a dive into the ocean and swim a few meters with the colourful marine life that surround the beautiful paradise island of Sri Lanka.
With so much variety on one little island, Sri Lanka is the ideal destination for a luxury family trip, with plenty to keep the whole family entertained. This country on the Indian Subcontinent offers a wide range of vacation options, from family vacations to adventure vacations for couples or solo travelers.
Not to mention the ultimate luxury honeymoons, which include stays in all of the greatest opulent hotels. Colombo has fantastic shopping, world-class restaurants, and a thriving art scene, all of which make for an excellent luxury city trip.
It will be a once-in-a-lifetime experience to glide over the lush greenery, many lakes and towering misty mountains of the island. With Sri Lanka being an island surrounded by caramel-coloured beaches and the glistening Indian Ocean, sailing options are also endless for the occasional sailing-lover.
So, if you're still unsure about where to go in Sri Lanka, contact one of our consultants today for the best travel advice and to begin planning your ideal luxury vacation to this wonderful country.