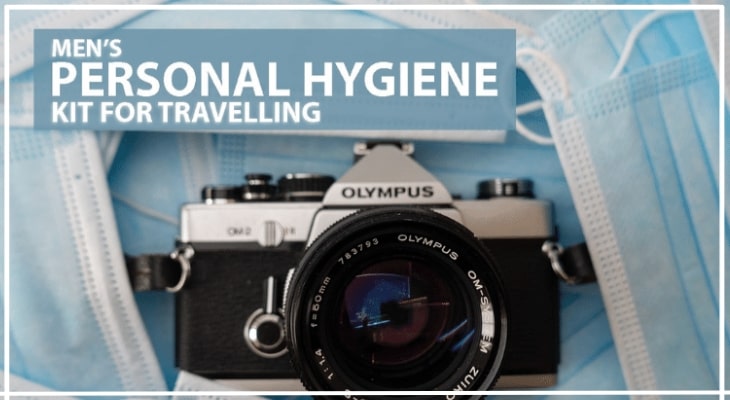 As a man, you will have plenty of hygiene challenges in the future. This Men's personal hygiene kit will help you to enjoy your travel at its best. The hygiene has come into the action at present unlike any day in the history. Although you have got lots of strengths at home, wife and mother who knows these things, you will be just a man while travelling.
There will be no one there to remind your hygiene needs or any kind of sanitary awareness. That is why you have to refer to a specific hygiene follow up. This article on men's personal hygiene kit while travelling will help you to go through the challenge you have to face.
01. Razor and The Shaving Cream
The frequency of men's shaving can differ from one person to another. The most important thing to note is its necessity. Since shaving is an essential thing, you must carry a shaving razor along with you.
Although you prefer the electric shaving razor types, it will be better if you carry a typical disposable razor when travelling. When it comes to shaving cream, you must include it in the men's personal hygiene kit while travelling as sudden wounds, and infections are not the affordable types while travelling.
02. Shampoo and Soap
The best thing is to get out of trouble and maintain your hygiene. As one of the most crucial parts in your body, your hair can store and bring you millions of microbes into your input organs. The best way to get rid of them is the use of a shampoo or a soap.
The dust and the rain we have to be the only threats that can fall onto your head as outside threats. In a time when there is a pandemic, you must not risk your hygiene as even a single sneezing can ruin your travel.
03. Hair Gel
A hair gel is not a fashionable item like always but a thing that can keep you off the saloons. You should not be risking your life in saloons and other men's style centers where you can be exposed to various threats. You may simply reduce your hair length along with a hair gel.
04. Tooth Brush And Tooth Paste
The tooth paste and the tooth brush of yours also belong to the hygiene matters while travelling. Since you may eat too much sweets or levitate out of your usual schedule while travelling, your toothpaste and brush have to be in your bag to save your teeth.
Although you have had the feeling that both things can be bought from a local shop that will not suit your hygiene policy as the number of risks may increase the more you stick on the queues. Therefore, the best thing is to take your brush and toothpaste along with you.
05. Dental Floss
After a few delicious meals, you might find specific particles that have stuck in between your teeth. As a person who is making plenty of freedom alone, you might have the taste of lots of food. As a man you might have found that the dental flossing is one of the entertaining things as well. Therefore the dental floss has to be among your men's personal hygiene kit while travelling as a sure thing.
06. Your Medicine
The travelling desire doesn't know any boundary. It means, any person in any age can go on travelling. If you are a bit old and you are not with your family, you will have to take all your medicines with you.
Although your wife is concerned about your medicine, you might not have anyone to remind of your medicine when travelling. Therefore the inclusion of your medicine, prescriptions and special health guides should be included in your men's personal hygiene kit while travelling.
07. Masks
A mask box will have to be an essential part in your men's personal hygiene kit while travelling. As a man, you must use the masks due to various benefits. As the first thing you must be kept safe yourself from microbes and other harmful substances in thin air.
When it comes to the other one, you will have to use the masks as the access permit to behave and enjoy in the outside in the future as well. A box of masks will be the most convenient and the budget-friendly way to get rid of this matter.
08. Sanitizer
You must have used the sanitizer on the enforcement of either your mother or your wife. As a traveler, there is a higher probability to forget the sanitizer as it is a mobile item with a mall size. A sanitizer is an essential thing when the water cannot be trusted and the hand washing should be conducted in a speedy way, you have to use the sanitizer.
It will reduce the microbial density on your hands and ensure that you are not going to be infected by the microbial density on your palm in the end. If you are a person who is allergic to soap, a sanitizer will have to be among the men's personal hygiene kit while travelling.
09. First Aid Items
One of the essential things you need while travelling are first aid kits. Since the hospitals and the treatments centers are crowded with the patients at present, you cannot risk your hygiene for a small wound.
Even if your hotel has got a first aid room, you should not expose yourself to them as your hygiene is one of your priorities. The best thing to face this matter is to take your own first aid kit where you can find the items range from Paracetol to plasters.
10. Cleanser
Girls are usually who use the cleansers as a part of their daily routine. It doesn't mean that men doesn't deserve them. A cleanser is going to be an essential thing for the men. Its main intention is to remove the dead cells, make up, and the harmful substances off the skin.
When it comes to the men's personal hygiene kit while travelling, a cleanser helps to send the unwanted matter quicker than the usual speed. In a time when there is a pandemic, that will be what exactly requires for men after a travel. The reduction of aging, setting the facial toe, leaving the skin refreshed and many benefits will also be available for men.
Conclusion: Men's Personal Hygiene Kit While Travelling
This article has explained 10 men's personal hygiene kit while travelling. As a man you must give your priority to your hygiene as your hygiene is going to play a major role in your personality and the social appearing.
You must remember at your places to visit, type of the travel, health condition and various things affect when arranging your hygiene kit. It means, this list can be extended or shortlisted accordingly. As a common men's personal hygiene kit, this will help you.
Men's Personal Hygiene Kit While Travelling FAQ
Will it be fine if I use my wife's items?
As the first thing you need to remember that a woman's skin and a man's skin are two things. They contain oil glands in different ratios, have different elements in different ratios, and contain hundreds of different. Although you can just mage the hygiene needs, your skin will not be happy to happen in that way.
Can I purchase this hygiene kit at once?
Yes, you are free to do that. But, it is important to note that the quality and the effectiveness like factors will not be up to the standards. Therefore, the best thing is to purchase individually and arrange your own men's personal hygiene kit while travelling.
Can I use the last year men's personal hygiene kit for this year while travelling?
Of course you cannot. Not only thing have changed in to the adverse conditions but the materials in the kit could have expired already.
Can I and My friend use my men's personal hygiene kit while travelling?
No you cannot. The hygiene must be maintained individually which means you have to use your own products and your friend has to use his. Although the germs and the viruses don't according to your belief, you will have the risks of transmitting skin diseases from one to another.