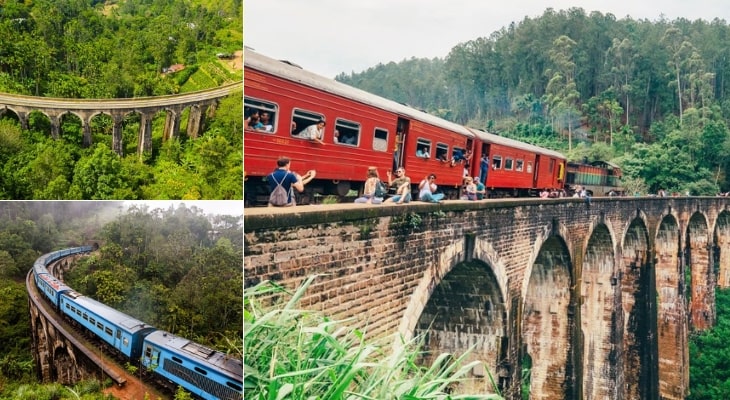 The Nine Arch Bridge was built at 3100m above sea level among the Central Highlands' craggy peaks. It connects the Ella Railway stations by a viaduct. The bridge was built entirely from brick, cement, and rock; it has not been touched by any steel since its creation in 1921. The bridge was constructed by locals using these materials. Construction stopped due to the shortage of steel during World War I.
Nine Arch Bridge Location & How to Get There
There are many ways to get to the train bridge. Continue on the road towards Little Adam's Peak, and then turn left at the small colored Buddhist temple. Use Google Maps and Follow Lake Front Cottage. If you prefer a quieter walk between the jungle and the parking areas after Art Cafe Umbrella, then turn left into the jungle. You will have a spectacular view of the bridge from this point. Follow the path for approximately 15 minutes. This path is so beautiful around and we highly recommend.
Walking along the track from Ella to reach a tunnel is the fastest way. You will reach the Nine Arch Bridge immediately after passing through this tunnel. If need you can pay 500 LKR (3 US$) to any tuk-tuk from Ella town and that is the easiest way to reach the Nine Arch Bridge. You can save time by asking them to drop off you near the tunnel so that you can walk to the bridge.
Train Times at the Nine Arch Bridge
Ella Trains passing the nine arch bridge about trains six times per day. but the exact times may change in Sri Lanka as we experienced, there should be Trains passing at least one hour. You don't have to wait so long, but it is not a problem. You can take great photos and you will find small cafes selling drinks and food. We recommend that you go there at 9 AM in the morning.
Best Time to Visit Nine Arch Bridge Ella
The best time to visit Bridge is morning sunrise. It is beautiful and there are few people. It is becoming more crowded with tourists as it is the beginning of their day-trip tour at about 9.30 Am.
Who Built Nine Arch Bridge & Historical Legend Behind
The bridge's creation is also a matter of legend. P. K. Appuhami was a famous man who lived near the Ella area in the Kappatipola region. Appuhami, who was born in 1870, was a well-known traditional drummer and devil dancer (a form of ritual dancing). Appuhami was spotted by a British official one day after he returned home feeling defeated from losing a competition. Appuhami, who was still wearing his dance costume at the beginning, was very scared of the devilish apparition. However, he soon became friendly.
Appuhami learned that the foreigner was visiting his area to build a railway and he offered to help him by providing labour from local villages. However, the construction of the railway was not a smooth process. They were unable to manage the large gap between the two hills, due to the valley between two hills. Due to the marshy terrain, it was impossible to establish firm anchoring. Appuhami learned this and asked to take over the bridge construction. Appuhami was initially rejected, but they eventually agreed to him because he had earned their trust through his friendship and assistance.
Appuhami had been working on the bridge in 1913, according to legend. Appuhami was able to solve the problem of the unstable ground by toppling Big rocks into space until a solid bed of rocks was created. The bridge's brick columns were then built over the bed. Appuhami's construction methods proved so cost-effective and intuitive that the entire project was completed in a year.
This allowed Appuhami to save a lot of money. British officials were shocked to learn that Appuhami had completed such a large project so quickly. They refused to believe that it was structurally sound. Appuhami is believed to have made a swear to the strength and said he would lie under the bridge when the railway line was being used for the first time. He kept his word as he promised and awed the officials when the track was completed.
The most interesting part of the story is that Appuhami was offered payment for the remaining balance costs he had saved by using his low-cost construction methods. Folklore tells of the happy day that Appuhami returned home to his village with four silver coins in hand.
Appuhami then spent the money on meals in his own village and all neighbouring villages for two days while giving each villager one silver coin. No matter what the stories may have, the Nine Arches Bridge with its nine graceful arches, solid construction design and solid foundation is one of the best examples of Sri Lankan skills.
Places Stay at Nine Arch Bridge in Ella
In the past few years, there have been more guesthouses & hotels opened or being built. You will need to get to Ella town to access the most popular restaurants. It is a bit far from Ella. It is a wonderful experience to wake up and see the Nine Arch Bridge and not a doubt that you are happy. These are some of the top hotels and guesthouses near Nine Arch Bridge.
Please note that drones are not permitted in Sri Lanka anymore.