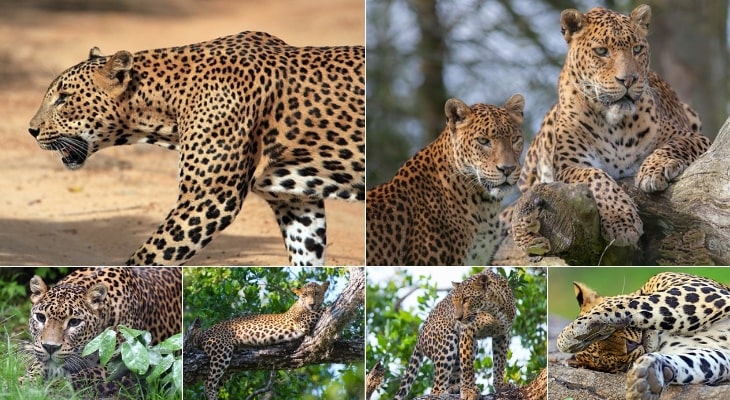 Sri Lankan leopards, one of nine subspecies that are leopards, are part of the big cat' family. The IUCN (International Union for Conservation of Nature) classified the endangered Sri Lankan leopard (Panthera perdus kotiya), which is a subspecies of the leopard that is native in Sri Lanka. A number of factors are responsible for the declining population of leopards, which is now less than 250 animals. the human-leopard conflict recognised as one of the main reason.
Where to See Leopards in Sri Lanka
Many tourists enjoy the pleasure of watching leopards in Sri Lanka when they visit the island. Due to the abundance of National Parks, Sri Lanka is one of the most sought-after safari destinations. There are 26 national parks that cover 5,734 square kilometres. Sri Lanka is home for a wide range of species including elephants, leopards and majestic Peacocks.
These sites are protected and managed by the Sri Lankan Department of Wildlife Conservation. These range from Willpattu National Park (in the north) to Yala National Park (in the south), with many other locations in between. If you're searching for places to see the leopards of Sri Lanka, Yala National Park is a best choice. Wilpattu National Park is also a good option. Udawalawe National Park is another great choice to see the leopards of Sri Lanka.
Eating Patterns Leopard & Distribution of the Sri Lankan
The Sri Lankan Leopard was previously found in all habitats, including the wet and dry zones such as the wet, dry, and arid zones. In Sri Lanka, leopards can be found in the dry evergreen monsoon forests as well as the arid scrub forest, rainforests, low- and highland forests, as well as intermediate wet zones. These leopards are now only found in a few areas of the country, which is why they committed to conserving these animals.
Carnivorous Sri Lankan leopards eat many species including langurs (hare), Sambar Deer, langurs and rats. There are many types of eating patterns, including frogs as well as birds, reptiles, rodents, and insects. While leopards are usually seen at night, they can also be encountered in the daytime. This can be mostly in the later afternoons or very early mornings. These creatures hunt on their own, except for mating season when mother and her cubs may be encountered in nature.
Sri Lankan Leopards Physical Characteristics
Their strength and ability to climb trees is due to the strong muscles found in the scapula. Males are usually 30% larger than females. Mature males will have larger heads and wider heads. The average weight for a male leopard is 170 pounds and a female leopard is 64.
The main characteristics are the rusty, yellow-coloured coat with dark spots. The length of the leopard's tail exceeds half of its body length, measured from head to tail and shoulder height is approximately 45-80 cm. This Sri Lankan subspecies is considered as the largest leopard species in the entire world.
Conservation of the Sri Lankan Leopard
To strengthen the conservation efforts of the Sri Lankan Leopard, research is done on a regular basis which is not enough. WWCT (Wilderness and Wildlife Conservation Trust), along with the Government of Sri Lanka, has been working on "The leopard Project", which aims to ensure that conservation of the island's natural resources is achieved to its full potential.
The rapid decline of Sri Lankan leopards has been caused by habitat destruction, hunting to trade, and forest land fragmentation. These endangered species have also been researched and studied by the Sri Lanka Wildlife Conservation Society.