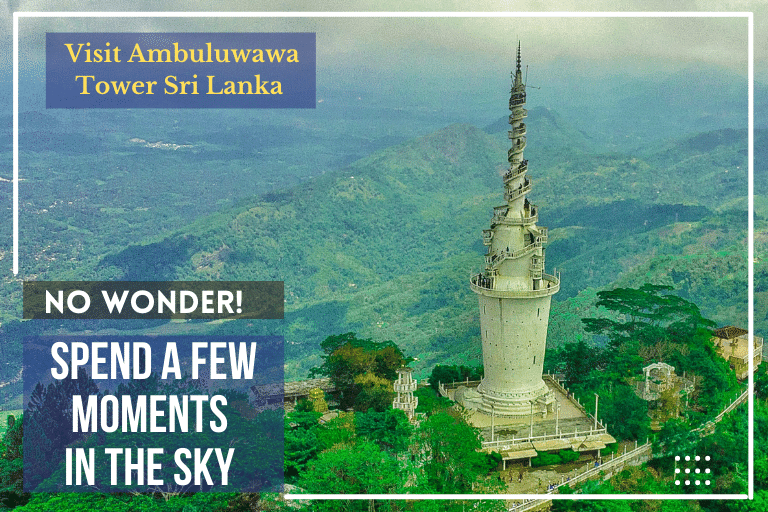 Ambuluwawa Tower (Kandy) All You Need to Know 2022
Have you ever heard about the entirety of a single place for multi-religious in Sri Lanka?
No wonder! The first capital for every religious pilgrim can worship, locates in Gampola, "Ambuluwawa Tower." It is also known as "Govi Jana Seya" by the locals. The tall funnel-shaped structure could be an incredible structure that permits you to walk to the beat of the Stupa.
Ambuluwawa is a multi-religious center where people of all religions in Sri Lanka can worship their religion, consisting of a Buddhist Temple, a Hindu Temple, a Church, and a Mosque. From the outset, this Multi-Religious Centre exemplifies ideal harmony and unity among Sri Lankans. The place is overflowing with people from every corner of the world.
They come to get the magnifying experiences and pray their tribute to the respective religions. Ambuluwawa tower is locating on the outskirts of Gampola town. The stunning beauty that can find there is increasing its popularity. When we climb onto the top of the tower, anyone can feel heaven is surrounding us. There is a significant explanation for the cold mountain air.
Ambuluwala is the only mountain top in Sri Lanka surrounded by other mountains, adding to the scenery's outstanding beauty. If you are a person accepting breathtaking challenges, the ideal place is here for you to explore. Make sure to add this place to your visiting list when you are traveling to Sri Lanka.
The concept of the Ambuluwawa biodiversity station came into action in the year 2006 on December 18. Its idea came into action by the Sri Lankan former Prime Minister Dissanayake Mudiyanselage Jayaratne. He is well known as "Di Mu," who was born in the Gampola area. At the time, Hon Mahinda Rajapaksa, Sri Lanka's Fifth Executive President, opened the sanctuary to the public.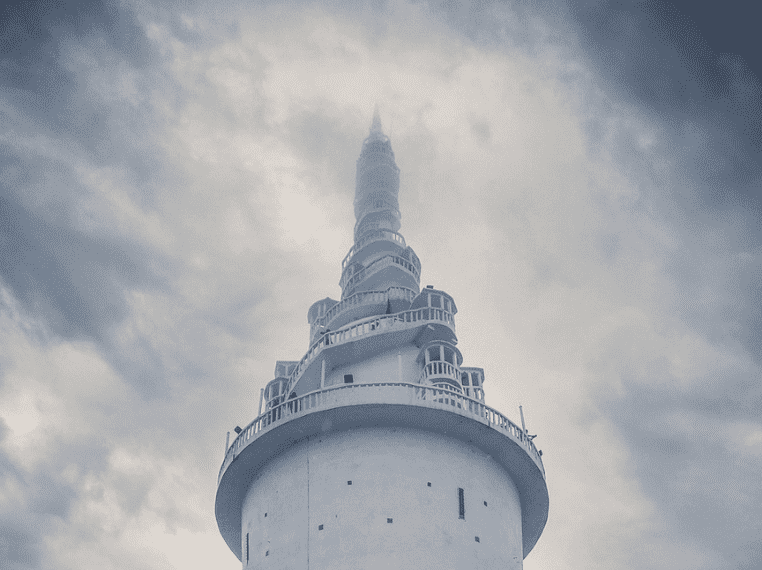 Who wouldn't want to spend a few moments in the sky? At a place with mountains in all four directions and such tranquility? It will surely provide a sense of peace in our hectic lives. Saying, 'The most challenging climbs give you the best views,' we can see the most astonishing views in 360 degrees from the mountain top. 
North – Mountain range of Knuckles
South – Sri Pada or Adams Peak
East    – Piduruthalagala Mountain
West  – Bathalegala or Bible Rock
If you travel on a day with a clear sky, you will be surprised to see the views: Hanthana Mountain Range, Hunnasgiriya, and the mountains in the Nuwara Eliya district. Hanthana mountain range is proving home to many travelers, adventure seekers, and hiking people. It stands like a lonely worrier who would stay in any circumstance. 
Ambuluwawa is an effortless walk that provides panoramic views of the surrounding mountains, woods, rivers, and cities. Avoid leaning on the railing to take photos. Especially near the top, as this is highly dangerous, and one may easily fall from here. When the mist clears, the vista can be terrifying for climbers, especially those afraid of heights. 
It is a varied region with evergreen woods, blooming flower plants, creepers, and over 200 different plants from 80 plant families, including various medicinal herbs. There are some valuable rare herbs like Iramusu, Muva Kiriya, and Nawa Handi.Ambuluwawa surrounds by mountains on all sides, including Piduruthalagala to the east, Bible Rock to the west, Sri Pada to the south, and the Knuckles Mountain Range to the north.
Aside from these mountains, many other peaks are visible from here, adding to the area's grandeur. The Hanthana Mountain Range, Hunnasigiri Mountain, Nelligala Mountain, Alagalla Mountain, Kadugannawa Mountain, and the entire hills of the Nuwara Eliya district can see from the top of Ambuluwawa Hill. As a result, there is a cool mountain breeze that blows throughout the region. The Mahaweli River and its surrounding farms add to the natural beauty of the area. 
Ambuluwawa's modern development has transformed it into a folk museum-reserve based on a defined goal. Three tanks erected on the summit deliver water to the mountain's base. Stones are an essential part of the ecosystem, therefore visiting Stone Park, which shows a variety of stones, is a novel experience. Local and foreign researchers who desire to do study can do so in a peaceful and quiet environment. The Bo seedling taken from the Sri Maha Bodhi grows on the peak, providing everyone with a sense of calm.
The Ambuluwawa peak distinguishes by its beautiful entrance, twin ponds, water parks, and stone parks. Herb gardens and outdoors provide tremendous mental and physical relaxation. Spine plantations and orchards are showing excellent examples of how a local agro-economy could go. With all of the essential conference amenities, a good outfit International Conference Hall is there to use.
The woodland above the tank torment by deers and sambas, which makes the surroundings alive. Roads with nights of sleep and hills are a terrifying sensation. The sub-way beneath the peak is thrilling. There is a restaurant anyone could have a delicious meal in a beautiful setting. Not only are these, but there is also a gathering place for farmers naming as "Govi Sevana."
There is also an image house build in the newest style to house the stone Buddha statue. An inscription outlining erects the biodiversity complex's goal. Hon. D.M. Jayaratne deserves national acclaim for tirelessly pursuing this unique biodiversity complex.
Ambuluwawa is locates 1965 feets above from Gampola town. And the mountain summit rises 3567 feet above sea level. At the peak of the mountain, the tower serves as a watchtower. Since there are no other mountains in the area, it gets an undisturbing view from far away and vice versa. Anyone can see the tower from the Gampola railway station before arriving at the spot. The winding staircase will be a challenging one to climb if you're not comfortable with statures. The elderly and kids are not admitting to rise as the height may fear them.
Coming to the beat of Ambuluwawa, one can encounter the foremost astonishing sees, which seem, in some cases covering by the continuous fog. However, once the fog clears, the view can be frightening and crack out climbers, particularly those who fear heights.
The tower is well-knowing for its spiral staircases, which could challenge to climb. As you climbing up the staircases, getting narrowing. Ambuluwawa tower height is designating as 48 meters tall from the ground level. It is shaped like a cone and houses a Buddhist temple called a Stupa. As you climbing up, you can enjoy distinctive sceneries which are different from each to. They have built several viewing platforms for anyone to enjoy and make memories during their visit.
The Great History of Ambuluwawa
The Gampola Kingdom was founded by the well-known Sinhala King Buvanekabahu IV (1341-1357 AD). He governed for four years in the mid-fourteenth century and was set as the capital city in the country. King Buwanekabahu V, who reigned Gampola for 29 years, was the final king. During this period, a noble known as Alagakkonara constructed a separate municipality in Kotte. The Saliyalapura Temple in Gampola houses the longest sleeping Buddha statue in South Asia.
There are several significant archaeological relics in the Gampola area that build under its control and later eras. A large mountain rises to the west of Gampola city, giving a natural shield to the kingdom at the time and serving as a fading sun shelter now. This beautiful rock and its vicinities depict in this fashion in Mayura Sandesa's 14th-century messenger poetry.
"When the stars are just starting to fade in their positions in the sky. And the gentle fragrance of flowers wafts lightly over the leaves. When the sun first rises and spreads its rays across the Eastern Alps. Continue from Ambuluwakada with a cheerful heart." (Verses 25 and 26 of Mayura Sandesa)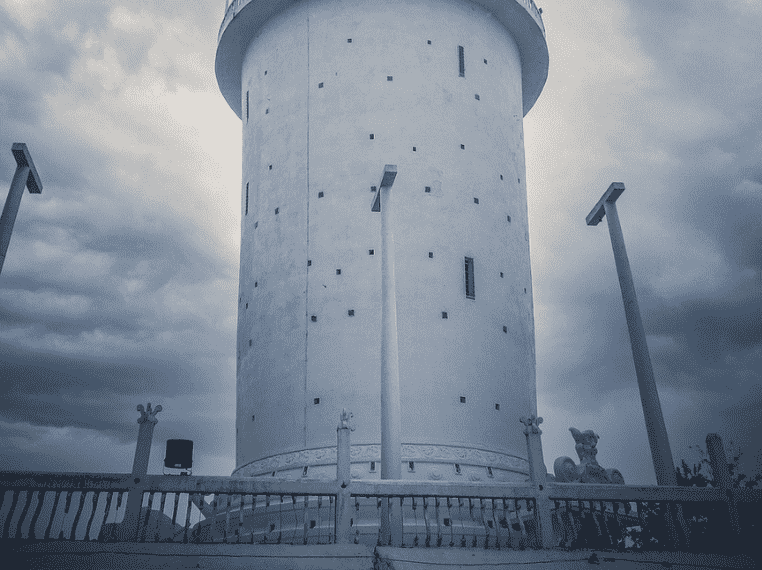 Ambuluwawa Biodiversity Complex
Sri Lanka was formerly a part of the Indian peninsula and linking to Gondwanaland millions of years ago. According to the Rama-Ravana mythology, Hanuma built his bridge to unite Sri Lanka and South India at Talaimannar strait. Although Sri Lanka has lost this geographical link, it has resulted in rich biodiversity here.
Sri Lanka considers having the most biodiversity in a single country in Asia. Because it relied on the Indian peninsula, biodiversity in this nation has spread across a greater area. The mid-country hills play an essential role in the region's biodiversity, and there are aircraft in the southwest area.
Rivers in the mid-hill country get their water from the southwest monsoon rains and connection rains. The area is also densely forested. Large streams and virtually all principal rivers can observe on the hill country's southwestern side. Water base, healthy soil, and pleasant breeze that breezes through the suns want tobe rays – all of these are the effects of biodiversity in the Mid Hill Country.
Ambuluwawa is the first-ever place in Sri Lanka for this kind of biodiversity stop. It has a more complicated growth than usual instances of biodiversity. Ambuluwawa is a rock mountain; however, it is not like other rock mountains in Sri Lanka. It comprises a unique form of rock known as "Inselberg," resistant to natural forces of erosion.
The site was opened for the public on December 18, 2006, giving accommodation for multiple plants. Aside from the leading botanical gardens in Sri Lanka, this place considering as the 4th botanical garden. Two hundred plants belong to 80 species can recognize on this site. Experiments on the variety of plants are still ongoing at Ambuluwawa.
A survey conducted by a University of Jayawardena Pura students resulted in the following data on Ambuluwawa's biodiversity. The study conduct in January and February of 2003.
11 mammalian species – including 01 endemic
59 avian species – including 07 endemic species
30 reptilian species – including 13 endemic species
13 amphibian species – including 06 endemic species
13 butterfly species – including 02 endemic species
At Amubuluwawa, a total of 126 species are there to find. 28 of the 29 indigenous species listed above are nationally threatened. Two no-endemic species are also nationally threatened. Three ponds, a Sacred Bodhi tree, a water park, a stone park, and a herb garden are among the many intriguing spots to see during your visit.
Medicinal herbs such as Iramusu, Muva kiriya, and Nawa handi are often in the region. The soil is red or brown, and it is latezoic. Surrounding the mountain are uniformly scattered evergreen woods, groves of bloomed flower plants, and creepers, which keep the breeze cool. The panoramic vista of the mountain ranges is both appealing and breathtaking.
In Sri Lanka, there is no other summit like Ambuluwawa, surrounds by many magnificent mountain ranges. The Mahaweli's valuable water is the lifeblood of the upcountry inhabitants, and the great stretches of rice fields irrigated by Mahaweli water create the Ambuluwawa rock is more appealing. Thousands of rivals, houses, and busy streets of Gampola town can view at a single location – Ambuluwawa – and the vista is one-of-a-kind and magnificent.
How to Get Into Ambuluwawa
Anywhere you came from, the nearest town to the tower is Gampola town. For those who travel from Colombo, the place situates 85km far from the capital. Mawanella to Ambuluwawa Temple is only 28.1 kilometers away. The road runs through Ginihappitiya Hemmatagama that bypasses Kandy and Gampola, which is 43 kilometers. The carpeted road is simple to find.
If you prefer public transport, the best method to add more experiences is to travel by train. You can get down quickly to Gampola railway station. If you can take a Tuk Tuk taxi from the station, it will add more beautiful experiences throughout the journey. The distance between Gampola Railway Station and Ambuluwawa Mountain Hill is 5.2 kilometers.
When traveling from Kandy, it is a 24.8 km distance from Kandy to Ambuluwawa. If you take public transportation, you must first arrive at Gampola. From Gampola town to Ambuluwawa temple, you may get a tuk-tuk or cab. Ambuluwawa is roughly one hour drive from Kandy hotels.
However, it is best and wise to use Google Maps for better knowledge on roads. The gates to the mountain are open from 8.30 am onward every day until 6.00 pm. The distance between the entrance and the mountain peak is roughly 2.5 to 3 kilometers. You can start your journey on foot from the gate and see the beautiful surroundings encompassing you while walking. If not, you can take your vehicle or a Tuk Tuk ride.
The entrance charge to Ambuluwawa is LKR 50 for the residential guest and LKR 300 (USD 2) per worldwide guest. This cost may be a blessing for entering the sanctuary. Morning is the culminate time to visit Ambuluwawa. The sun is dazzling, and you will be able to elude the swarms. It is getting to be progressively active with both residential and universal guests.
Ambuluwawa Location Address
Address of Ambuluwawa Tower
Ambuluwawa Biodiversity Complex,
ICC Road,
Ambuluwawa,
Sri Lanka.
Ambuluwawa

,

Ambuluwawa Hike

,

Ambuluwawa Sri Lanka

,

Ambuluwawa Temple

,

Ambuluwawa Tower

,

Ambuluwawa Tower Climb

,

Ambuluwawa Tower Height

,

Ambuluwawa Tower Sri Lanka

,

Sri Lanka Spiral Tower

,

Sri Lanka Travel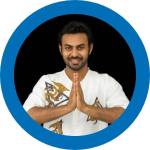 "

Hi, I am Manoj, from See Ceylon Tours. We are online for global customer care service is 24/7 365 days" 
You can live chat with our customer care agent on our website
You can submit your tour details to us on our website form or send us an email
However, If you prefer to reach us, we are just a few minutes away to cater to all your travel needs."
– Manoj –
Travel Consultant
Contact us via Email:  info@seeceylontour.com
Do not hesitate to contact us. We are an expert team and we are happy to talk to you.