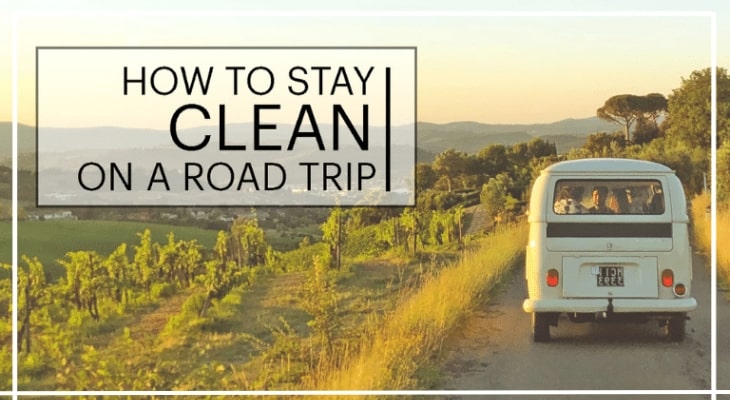 One of the challenges a traveler faces is to stay clean while travelling. This article will explain how to stay clean on a road trip. Staying clean in the society has been a common talk nowadays. When it comes to a traveler, he has to stay unlike anyone as he/she is exposed to the world in many ways.
Because he has to face, talk, interact, and make relationships with the strangers that he/she has never seen, being clean or cleaning the belongings become a major need. Although you have an understanding about the travelling, the knowledge on staying clean on a road trip is low for most of the travelers. This article will explain how to stay clean on a road trip.
01. Plan Your Destinations That Considers the Cleanliness at High
What makes you differ from the typical travelers is to have lost of destinations. You are free to make that unique feature in to a benefit for the sake of the cleanliness of yours and the others who join your road trip. The easiest way to increase the cleanliness is to go for a place where the sanitation, personal hygiene and the cleanliness are mattered the same.
You will not have lots of things to do either. Although you are a road tripping guy, you have to stay at several places at night. Even if you are going to stay in your vehicle at night, you will have to be at a specific resting place right. Then, the selection of the destinations have to be done after lots of research. That will not be a hard thing to do as the internet and the latest tools will help you to find that.
02. Keep Lots of Bags With Different Sizes
If you want to know how to stay clean on a road trip, the bags will have to be one of the words to come and fill your mind. It is indeed a smart move to keep bags in different sizes and categories. Plastic mixed bags, polythene bags, cardboard bags, trash bags, and lots of bags are in the market.
Although you have to think before buying any other item in various types, bags are not supposed to be so. Since you have to dump the materials in various sizes as well as natures, these bags will help you as a sure thing. The most important thing to remember is that you will have to dump garbage or any dumping things in a place where it is not supposed.
03. Place All Your Visitors in a Specific Place in Your Vehicle
If you are going to use your own vehicle, you will have to consider about the visitors whom you take in the car. For example, even if it is your family, you should keep your kids in their designated places for the sake of the cleanliness. Although you don't know how to stay clean on a road trip yet, this step will make you a pro in it.
Keeping the garbage bags in their respective places, near the windows, glove box, special boxes are the places you have to remember when arranging the space. This small step will increase your cleanliness along with the others who wish to go on a road trip with the pleasantness.
04. Don't Eat In The Car
According to research conducted by the University of Oxford, the food had been the most common way to unclean vehicles. Although you are tired, hungry or desired to have your delicious meal while travelling on the car, they will make your vehicle an untidy place. Also, they will call other insects and agents that transport germs in the environment.
Although the researchers have not been conducted on the Pandemic and its relationship with the virus carriers, cockroaches, ants, flies, and other small pests will have a major role in it. Besides, the odor, and the smell in the air will be the thing you need not to have in the car.
05. Keep the Flies Off
While you are bothering to send away the cockroaches and other insects, you are simply ignoring the worst creature, the flies. You must have a way to send the flies off your living or travelling area. No matter the public transport or the personal vehicle is your transporting source, you should think of that.
If you are using your own car, you will be able to use a fly repellant or a smelling agent in your car. When it comes to a traveler who refers bus or other kinds of public transport options, you may use a repellant cream to keep the flies off.
06. Be Aware of the Dirtiest and the Uncleanliness Items in Your Possession
You must have an understanding about the thing that can make you an unclean person. You might not have that your phone is one of the dirtiest thing in your possession. According to the researches, it has been revealed that the phone of yours is not cleaner than your washroom.
When it comes to the list in the order, your money, your purse, and even your ATM card are the things that have the cleanliness lacking matters. Although you don't have to arrange a checklist or any kind of sorting matter, you should have the common awareness which makes you a perfect rod traveler.
07. Keep a Serviette Paper Box
If you are a person who lives to keep the cleanliness around you, a serviette paper box will have to be a vital thing. So, why don't you take one when you are about to discover the whole world on a road trip. A serviette paper is always a thing that can wash away dirt, wipe your dirty hands and commit lots of sanitary matters as a sure thing.
Yes, you have every reason in the world to keep a serviette box and increase your cleanliness. You may simply place it in the glove box in your vehicle or near the driving seat. Even if you are going to use someone else's vehicle for your road trip, that will not consume much space in your luggage as well.
08. Consider Your Own Hygiene to Make the Surrounding a Clean Place
Although there is a direct relationship between the personal hygiene and the cleanliness, this article is not about increasing your knowledge about the personal hygiene. But, it is important to remember that the personal hygiene leads to have the cleanliness around you as well.
As a person looking forward to know how to stay clean on a road trip, you must think of the personal hygiene. For example, keeping your nails shortened helps you to stay clean. Other than that, you are prevented from been a germ or dirt carrier. When it comes to your hair, personal clothing, and almost everything are available under this point.
Also, you have a responsibility to make others aware of these kinds of matters a swell. As a father, mother, brother, or any role in the family, you are responsible to make the rest aware of the importance of the sanitation.
09. Have a Toiletry Kit, Keep a Checklist for the Toiletry
The toiletry is one of the essential thing in the traveling arrangement. You must have already chosen a toiletry kit already. The kit for you and the others will surely help you to stay cleaned all the time. Not only your toothbrush or the toothpaste, it has to contain from the item as spell from A to Z. If you are concerned of the budget, buying a new kit will be a costly thing for sure which makes you to buy the thing individually.
Indeed, that will be a wise decision if you just follow the regular routine and collect everything you need. Besides, your toiletry kit will be consisting of unnecessary items that add extra weight on your expenditure. When it comes to maintaining and the arranging the toiletries for your road trip, you must keep a checklist.
10. Plan the Return of Yours
One of the tings most of the road travelers as well as the typical travelers forget is the planning of the return. You must keep your return as a precious moment as you should not wear dirty or unclean clothes. It is up to you t keep it as a time when you memorize the excitement or stay relaxed as well. But, the main thing is to have enough freedom in the mind.
If you know how to stay clean on a road trip, you will have to stay cleaned even after the return as you will be a tired person after a road trip. Also, you don't need to have dirty plates or any other uncleanliness on the sink.
If you find enough plans to clean your toilets as well as the bathroom that will be a positive thing for sure. Getting approved leaves for extra few days will be a value addition to your cleanliness. Since you need to have a rest after the road trip, you must arrange those things before leaving for the road trip.
Conclusion : How to Stay Clean on a Road Trip
These 10 tips are for a traveler who wants to pay a visit to embracing destinations around the country. All these tips will help you to find your clean path along the dirty and unclean road as a sure thing.
The first thing you should remember is that you are exposed to uncleanliness more than the typical travelers. Simply, what you are dealing with is the road which is filled with millions of people and uncountable numbers of unclean matter. If you follow these simple matters, you will be able to feel your road trip as the way you needed.