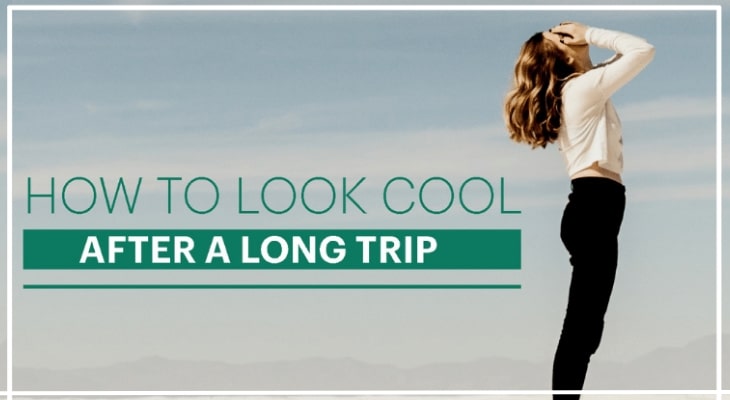 One of the challenges that requires to get the maximum travelling fun is to stay refreshed. This article will explain how to look cool after a long trip.
Why Should You Stay Refreshed?
Although you might have not felt the travelling is more tiresome than working at your office, it is. Since you are going to enjoy your every moment while travelling, you will not feel that to your soul. But, it has to be admitted that the traveling can make you tired although how interesting it is.
Although you have not minded that at all, your tiresome or a heavily enjoyed couple of hours can simply ruin your day. For example, if you fall asleep while you are traveling in the train, you will miss some landscaping and panoramic views you would never see again.
The best way to keep the momentum and enjoy your trip or vacation is to stay refreshed. This article will explain how to look cool after a long trip along with 08 tips.
01. Get Plenty of Sleep Before the Trip
If you don't know how to look cool after a long trip , the best way to start that is to have a long sleep before the previous night. You should remember that you must have thousands of sleeps on your bed.
What you are going to have is a rare occasion which should not be missed. Simply, if you compare both sleeps, sleeping while travelling or sleeping on your bed, you will see that the day before the travel ha the least validity.
02. Be Selective on Your Bookings
One of the best ways to stay refreshed during the travelling is to stay focused on the way you travel and the place you keep sitting when travelling. As a person who bothers on how to look cool after a long trip, you have to pay attention on to bookings as a sure thing.
You get to enjoy your ride at best by sitting near a window. When you are in a middle of two people, your freedom eventually falls. What happens in the end is to lose the focus and you falling into sleep.
03. Keeping a First Aid Kit With You
One of the things that keeps the passengers off the typical travelling can be a small incident. For example, when there is a small scratch that has happened due to a slip, he/she will have to suffer for it for a long time due to swelling or any infection.
Sometimes, that may be as extensive as the end of the trip. If you can use a first aid kit within the first five minutes, there will not be any swelling nor any suffering. When it comes to a headache, usually, it will make people suffer for at least a few hours. If you can keep a first aid kit in your bag, that will be a first thing to learn on how to look cool after a long trip.
04. Packing Another Set of Clothes
According to a research conducted by the Maldives government, Travelers had stated that the dirty cloth had been a reason to suffer during the vacations. Since the travelers didn't have one excessive set of clothes, they had happened to stay in the hotel rooms. As you know the travelling is not a calm activity. Vacations, or trips have to be enjoyed.
When doing that, the dirty clothes are going to be an essential part. Therefore, you should not leave even a single chance to spoil your trip due to a lack of having clothes. If you don't know how to look cool after a long trip with clothes, everything will go in favor of you.
05. Building Relationships Is One of the Ways How to Look Cool After a Long Trip
Although you can not control what you see or what you hear while travelling, you may simply control what you build, the relationships. Although you never included relationships as a thing that can set the real time of your travelling, it is.
The most important thing is not requiring money nor any payment to make them. You might have echoes the travelling due to a broken relationship a swell. If it is so, the travelling will be the best way to end that feeling a swell.
Have you ever thought the first impression feeling? Even if it is nothing to mind related to the destiny, the scientific explanation will blow your mind. As a traveler, if you are in a remote place where a lesser number of travelers enjoying the moment, all people in that place has one common thing to share, the taste in traveling.
You may simply consider that as an asset to build a relationship. If you have a couple of words with them, that will be all it takes to ensure a relationship. You will find hundreds of ways to build relationships as a traveler similar to that.
What Are the Best Tips to Develop a Relationship While Travelling?
If you are not aware of how to look cool after a long trip with relationships, following tips will help you.
Being honest always
Keeping everything simple and reliable
Staying in contact as much as you can
Sharing things together
The use of social media
Traveling together
Sharing common thing more and more
06. Hydration Is Essential
If you know how to look cool after a long trip , the hydration will be one of your earliest choices. Water is precisely for keeping you freshened up all the way. Although most of the people see it as a thing that adds a burden, you will get lost of freshness though the hydration. Besides, you don't have to see it as just drinking but lots of many ways to do that in the proper way.
For example, you can stay in a place where the dehydration is minimized. Staying under a shadow, wearing body covering clothes, as well as reducing the water exclusion off your body are those methods. When it comes to the best way to keep your body hydrated, keeping a water bottle will be the best way. Other than that, you should remember that a cool water bottle is not the best option you may take.
What it really does is to increase the body heat in the end. Therefore, you must drink natural water as much as possible. Even if you are a man, you don't have to be shy to do that as this is about keeping your mode at its best.
07. Watch What You Eat
If you are reading this article on "how to look cool after a long trip ", you will not lie this fact. Your food habit causes lots of lovely memories vanish into thin air due to a bad stomach. More importantly, you can not state your stomach as the reason to spoil your trip to a dreamy destination. A
s you think, one of the best ways to enjoy your trip into a foreign country or a region is to see things, hear things, and obviously eat new things. Indeed, you should not bring barriers in front of you that particular habit, but, make sure to know what you eat while travelling.
According to the professional travelers' ideas, they don't consider any food as a new food as they do lots of research before having. Your allergies, oil food, blood sugar, and lots of things will have to be considered before having them.
Usually a proper meal is considered as a food plat that commonly contain vegetables, cereals, protein, and enough fiber. The most important thing is that you don't have to follow this exactly. What is required is to keep everything in control by following small tactics.
For example, if you love having oily street food, you can have them as the diner and get rid of stomachaches in the next day. When it comes to the selection of a restaurant to be delicious with food, you may simply check the reviews or the feedbacks left by the earlier customers.
08. Skin Protection
Your skin is one of the precious gifts you have. Although you are a woman or a man, you have to maintain your skin as a first priority. It is important to remember that your vacation or the trip is not the time to find measures to save your skin. Like most of the people do without knowing how to look cool after a long trip , you should not find different ways to save your skin.
Sun creams, overcoats, facial wipes, sprays, moisturizer creams, and makeups should be arranged at the proper time. One of the most misleading facts about the skin is believing the sun is the ultimate creator of skin diseases. Indeed it is not.
Cold, humidity, dust, dirt, and even the men can be considered as the threats against your skin. You will have to take care of all these things. If you forget your skin or find the solutions at the vacation itself, you will lose lots of things as a sure thing.
The most important thing is to include the skin saving thing in a checklist or get them arranged before leaving for the vacation. Without a stress or even a thought of frustration you will e babel to enjoy your vacation all freshened up.
Conclusion: How to Look Cool After a Long Trip
This article has explained 08 major facts that can be useful when staying refreshed after a long trip. Although you are a local or a foreign traveler, all these 08 facts will help you as a sure thing.
How to Look Cool After a Long Trip FAQ
How Can I Sleep Before a Long Trip?
There is nothing much new you should do. You may sleep similar to a regular person. If the sleep is a hard thing when you are nervous, you may simply follow these steps. First you should have a warm bath.
Then you may turn on a classic music you like. Then you can start practicing some yoga exercises. After about 15 minutes, you will fall asleep.
Should I Sleep Before My Flight?
According to the proven psychology, if a person doesn't have a proper sleep, it will affect his/her performance. If you don't sleep before the flight, you will not have your 100%.
How Might Have I Missed the Booking Near a Window?
You might have been working on getting approved your leaves for the vacation or you might have been planning your trip. What you have forgotten is to be specific about the seat you ordered.
If you are in a hurry, you will lose your refreshment after a few minutes. Therefore, you must choose and book seats no matter they are plane seats or train seats.
How Can I Choose Seats Near the Windows of the Flight?
You can simply follow a link to book your seat. If the flight has left such seats, you will do that easily. When it comes to the connecting flights, you will have to do that in both.
Should I Pay Extra to Get a Set Near the Window?
If you want to have a seat near the window, you will have to pay for it in America. That excessive charge may range from $5 to $15. American, Delta, Frontier, and US Airways are those Airways that have an extra charge for that. But, you should remember that you may get one by luck as well.
Can I Keep a First Aid Kit in My Bag While Travelling?
Of course, you can keep a first aid in your bag. But, you have to keep it in the checked bag as a sure thing. Unless you are allowed by the airways or the authorities, you will have to dump them.
Can I Leave My First Aid Kit in My Car When Going on a Road Trip?
It is advised not to leave the first aid kits in the car as the sunlight may degrade the quality of the first aid kit products. It is important to note that the degrading may highly affect to the creams and ointments as well.
Should I Know How to Look Cool After a Long Trip Using a First Aid Kit?
The most important thing is to have a first aid kit. Because, there can be lots of people who know how to use a first aid kit in an emergency situation, having a first aid kit will be crucial.
What Is the Best Way to Pack My Clothe in the Travelling Bag?
Among the best packing methods, the cube packing is considered as the most effective cloth packing method. Rolling or the spoiling of the ironed clothe will be prevented by this method.
How Can I Include All the Packing Items in the Traveling Bag?
You may simply use a checklist when packing your bag. It will help you to put everything you need into the travelling bag. If it is hard to use a checklist of your own, you will be able to use a downloaded checklist that has been prepared in common perspectives.
How to Look Cool After a Long Trip Without a Clothing Bag?
If your clothing bag is stolen or missing, you will have to buy new clothes. That will be an easy thing to do if you arranged your bag using a checklist. If you don't have one, you will have to download a cloth packing checklist from the internet.
Why Should I Be Careful When Making Relationships While Travelling?
The first thing to be careful is your safety. You have to be sure that the relationships you cerate are mutually important. Some people may come into your association due to money or other things.
You have to be careful of these things. Even if you are in a developed country, you should mind the safety. When it comes to the other things, legal background, your sexual health, and the safety of your loved ones.
How Do I Get Dehydrated While Travelling?
Dehydration means the reduction of water of your body. It can occur due to several reasons such as the lack of water drinking, increased temperature, low humidity, and dry air. If you are running out of water, that will be another type of dehydration which require water to set things back into normal.
Does the Air Travel Cause the Dehydration?
Yes it does. When you are travelling on a plane, you will not get the required pressure on the air. Due to this, you will not get enough oxygen into your body. As you know, air helps to produce the water in your body through its water moisture and the oxygen concentration.
Since the air is not pressurized, you will not be dehydrated. But, you should not worry about that as a drink while flying on the plane can fix all those problems.
What Are the Signs of the Dehydrations?
You may simply feel it as a thirst at first. When you don't get water according to the required amounts, that thirst will be developed into a dizziness, paint, or a tiresome atmosphere. The best way to recognize is to see yellowish color urine when you pee.
What Are the Best Tips to Control Food While Traveling?
If you don't know how to look cool after a long trip with food, following small tips will help you : • Consume fresh food after washing. • Keep hot food hot and cold food cold as it is necessary. • Get informed by a doctor before leaving for a trip or a tour • Avoid raw meat, bushmeat, strawberries, sauces, and oil food as much as possible.
Regarding Which Diseases Should I Be Careful When I Eat on Abroad?
Although you are not a traveler or not, you have to be careful about bacteria, viruses, and parasites when eating food. Other than that special allergies, food poisoning, and the special physical conditions would be taken into the attention when having food.
How to Look Cool After a Long Trip With Food?
If you are home after a long travel, you will have to be careful about the food you eat. Since there is a probability to have food stress to you, you may eat simply digesting food such as food salads, vegetable salads, or even snacks that can be easily digested.
Is There Any Chance of Damaging My Skin While Flying on a Plane?
Yes, there is a probability to damage your skin while flying on a plane. The reason for this is the dehydration effect on the skin. Since the air conditioning is highly implemented on the planes, your skin will not be able to tolerate that.
Also, the reduction of the pressure in the air causes the blood vessels to get thinner and reduce the water flow into the furthest blood vessels. Since your skin is the furthest pat of the body, the dehydration will decrease due to the failed reach of the blood.
How Can I Protect My Skin While Flying?
You may simply apply a moisturizer cream on the skin and avoid dehydration. What the moisturizer cream does is provide the necessary hydration to your skin and act as a barrier against dehydration.
Why Does My Skin Get Dehydrated When Traveling?
The main reason for getting dehydrated your skin when travelling is due to the cabin of the aeroplane. When it comes to the road-tripping, your vehicle's air-conditioning may be a reason. If you are in an open space, the heavy wind will have to be the main reason for having dry skin.