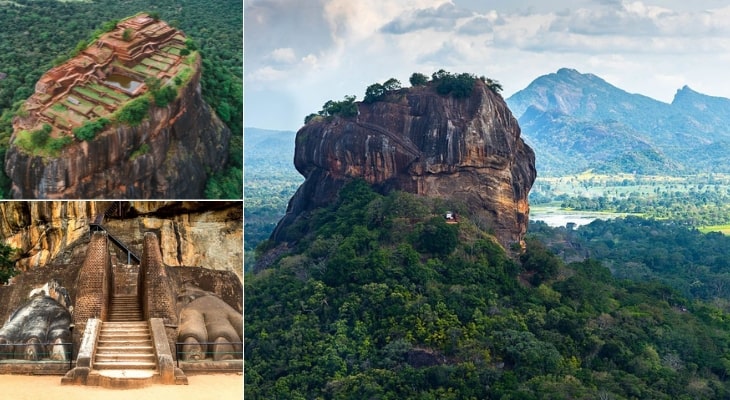 An enormous pillar of granite rises out of the lush tropical jungle in the heart of Sri Lanka. The Lion Rock Sigiriya in Sri Lanka is the best example of ancient and breathtaking Sri Lankan architecture.
Sigiriya (see-gee-REE-yah) is the name assigned to the stone, which occupies a significant position in the island's cultural heritage. You can see graffiti and frescoes on the 660-foot structure. Sigiriya technically refers to the old city, but it is more commonly used to refer to the famous rock castle that towers over the historic capital at the height of 660 feet.
Lion Rock Sigiriya locates in the Cultural Triangle of Sri Lanka, which includes Kandy, Anuradhapura, and Polonnaruwa. The UNESCO World Heritage Site at Sigiriya Rock Fortress is one of the outstanding examples of ancient town planning and irrigation in the world. At times, it is informally referring to be the world's, Eighth wonder.
What Is the Sigiriya Lion Rock
Sigiriya or Sinhagiri, often known as Lion Rock, is an ancient rock fortress in Sri Lanka's Central Province, Matale, near Dambulla. It was founded almost 1,500 years ago as the fortress of a renegade ruler. And now, the Lion Rock complex is one of the earliest intact instances of historical urban design. Although the Kassapa Lion Rock was ultimately unsuccessful in rescuing its master, it successfully maintained ancient Sinhalese culture.
The word Sigiriya or Sinhagiri refers to the 1200 steps that must be climbed to reach the pinnacle of the Lion Rock Fortress. Numerous platforms separate the steps and provide rest areas if needed. In 1982, UNESCO designated Sigiriya Sri Lanka castle as a World Heritage Site under the name "Ancient City of Sigiriya Sri Lanka" as one of the most notable Archeological Treasures.
Where Is Sigiriya Rock Located
Sri Lanka is a tiny island roughly the size of West Virginia located close to India's southern coast. It entitles "the Pearl of the Indian Ocean," referring to the island's natural splendour, inhabitants, and even its form. The column of Rock locates in the Matale District of the Central Province.
According to historians, the area has been inhabited since the third century B.C.E., Making it an important historical and archaeological site for Sri Lanka. The Rock is called Sihagiri, which translates as "Lion Rock," about the colossal stone beast that greeted guests at the entrance. During King Kashyapa's reign in Sri Lanka (477-495 CE), this location was a temporary capital.
Legacy of Lion Rock Sigiriya
Even though Lion Rock Sigiriya only served as a capital for a short time and is no longer a central historical figure, the contributions of the ancient Sinhalese civilization do not diminish its importance. As one of the best-preserved models of ancient urban form, the complex is now open to visitors.
It is one of Asia's oldest gardens still standing. Sigiriya is Sri Lanka's most famous historical monument and one of the country's seven UNESCO World Heritage Sites. Sri Lanka proudly refers to the ancient city as the "Eighth Wonder of the World," and given that the complex irrigation systems continue to supply water to the manicured gardens more than 1,500 years later, it certainly qualifies.
What is Kassapa Lion Rock
According to other accounts, King Dhatusena was the principal architect of Lion Rock Sigiriya, with Kashyapa completing the construction in memory of his father. Other legends portray Kashyapa as a playboy monarch, with Lion rock serving as his pleasure palace. Even his ultimate destiny is unknown. Further pictures view the site as the product of a Buddhist community that serves no military purpose.
This location may have been significant in the historical Sri Lankan conflict between the Mahayana and Theravada Buddhist schools. King Kashyapa picked lion rock because he felt it would provide a strategic advantage to his soldiers in an invasion. The defensive fortress benefited from its lofty location, which offered spectacular all-around views.
As the city-building project progressed, the complex became a bustling administrative centre for the new King after many years. The massive Lion that greeted visitors on a small platform halfway up the igneous Rock's face gave the place its name. A rock-carved lion guarded the entrance is welcoming guests and warning them of danger.
The Lion Rock Sigiriya is both a palace and a fortress. The complex has five gates and is just under three kilometres (3 km) broad and over one kilometre long (1 km). Kassapa Lion Rock is one of the most important urban planning sites of the first millennium, with a very complex and innovative site layout.
The site design included a fortress, an upper palace perched on the cliff, and ground-level residences. The design incorporated symmetry and asymmetry to intertwine the man-made and natural geometrical forms in the area. Additionally, the King fabricated beautiful gardens throughout, and a moat with fortifications encircled the compound for security.
On top of the Lion Rock Sigiriya are a lovely manicured garden and the upper palace, still standing today as Sri Lanka's oldest surviving palace. The top beds irrigate using a sophisticated irrigation system that incorporates both surface and underground hydraulic systems. Cisterns carved into the Rock continue to work today.
The castle was surrounded by three rings of crocodile-infested moats and guarded by guards who balanced on the Rock's edges. If any of the warriors slept off, they would die instantly.
History of Sigiriya Rock Fortress
Lion Rock Sigiriya environs have likely been inhabited since the Paleolithic period. According to archaeological evidence, Buddhist monks and ascetics occupied many rock shelters and caves in the area as early as the 3rd century B.C.
This ancient rock shelter monadnock named Aligala or Elephant Rock east of Sigiriya shows that people lived there approximately 5,000 years ago, during the Mesolithic Period. It is the earliest evidence of human settlement at Lion Rock Sigiriya. Three centuries before Christ, Buddhist monastic communities sprang up on the boulder-strewn hillsides surrounding the Lion Rock Sigiriya in the west and north.
According to estimations, there are 30 monks' shelters at the base of the massive Rock. Those were built under huge rocks, with drip ledges cut around the cave entrances. On several shelters, inscriptions carved into the gravel on drip ledges memorialize the shelters' gift to the Buddhist order as a home for monks. Eight of their donation details are written in Brahmi script. These were created between the third and first centuries B.C.E.
King Kasyapa (A.D. 477 – 495), is one who picked Lion Rock Sigiriya as his ruling core, is credited with constructing all the significant structures that still stand today. Senerath Paranavithana, a world-renowned archaeologist, claims that Lion Rock represents the sensual nature of its pleasure-loving ruler.
He based the city's design on the fabled Alakamanda of deity Kuvera in his work. Coins and ceramics from the Sassanian dynasty of Persia (Iran) were discovered in Sigiriya, Sri Lanka. Penchant for Persian styles in building pleasure gardens implies trade and cultural ties with foreign nations during this brief period.
However, in the sixth and seventh century A.D., Lion Rock Sigiriya lost its political significance and reverted to becoming the residence of Buddhist monks. During this time, the earlier monastic phase's cave-shelters with drip-ledges were improved. Several shrines were added, including a stupa, an image house, and a bodhi tree shrine. This second era of monastery growth lasted through the 12th and 13th centuries.
Kassapa Lion Rock abandons for generations until the 19th century. After Kandyan, kings utilized it as a military outpost. Later in the century, it was a British military. In 1832, a British commander, Jonathan Forbes, brought Sigiriya back into the historical spotlight. The Archaeological Department began archaeological activities in 1894, under the leadership of H.C.P. Bell. The task was taken over by the Central Cultural Fund almost a century later, in 1982, and it has been carried out magnificently till now.
Reign of King Kashyapa
King Dhatusena governed Sri Lanka in 476 CE. Kashyapa, one of his illegitimate offspring, craved the throne. But was aware that his full-blooded brother Moggallana was next in line. So he planned to stake his claim, conspired with the army commander to depose Dhatusena.
In the face of approaching death, Moggallana, the legitimate successor, took refuge in South India. But vowed revenge. According to legend, Kashyapa was cruel to his father, even though he was still alive when he walled him up. In 477 CE, Kashyapa became King when his father and brother stepped down. Fearing a Moggallana invasion, he relocated the capital and his palace from Anuradhapura, the ancient capital, to Lion Rock Sigiriya, a safer area.
King Kashyapa started building his stone castle right away out of self-preservation. Sigiriya transformed into a sophisticated city and fortress during King Kashyapa (477 to 495 AD). During this period, the rock top and the surrounding area were covered with complex buildings, including fortifications, palaces, and gardens.
Best Time to Climb Lion Rock Sigiriya
It's ideal to go in the dry season, from late December to early April, with viewing and sunlight best in March. Even though it was summer, we arrived in mid-April and couldn't find a single term to explain how oppressively hot and humid it was, even at 8 am. As this is also the busiest time of the year for tourists, expect long lines.
In other cases, the stairwells got so congested that a one-hour ascent took 2-3 hours. Bring lots of drinks, as well as sunscreen and a hat. Lion Rock Sigiriya is open daily from 7 am to 7 pm (the ticket office closes at 5 pm). We reached there first in the morning when we travelled. But now, we'd recommend going after dusk instead for various reasons.
BEAT THE HEAT | Ascending to the summit in the late afternoon or evening can help you avoid the worst of the day's oppressive heat by a significant margin. In addition, going around dusk ensures that you'll be able to descend in cooler temperatures rather than the scorching sun of an early morning trek.
MISS SUNRISE ANYWAY | YOU'LL MISS IT | Because the gates don't open until 7 am, making the hour-long hike to the summit for a fantastic sunrise a moot point. Climbing later in the day will allow you to see some spectacular sunsets.
FEWER PEOPLE | The best time to visit Lion Rock Sigiriya is between the hours of 10.00 am to 3.00 pm when it's less packed.
PHOTOGRAPHY | Sigiriya provides a 360-degree perspective of the Central Plains. Thus the direction of the light isn't as important (particularly for those interested in photography)
PIDURANGALA CAN BE SEEN AT SUNRISE | While the views are spectacular, the dawn view of Lion Rock Sigiriya and the Central Plains from Pidurangala is much better. Depending on the time of year, we'd go to Sigiriya at dusk and Pidurangala in the morning.
If you want to see the park at sunset, get your tickets at 5 pm and enter the park fast to avoid losing out.
What You Should Know before you visit Sigiriya
Make sure to arrive before 5 pm as that is when the ticket office shuts. The facility is closed till 7:00 pm.
Whatever you do, avoid visiting there during the day. It will be too hot to appreciate.
Before beginning your trek, I highly recommend paying a visit to the Museum. What are your options over there? You can see what the Lion Rock Sigiriya looked like when it was first built.
As there are no restrooms on the way up or down, make careful to use the on-site toilet before beginning your journey—the bathrooms locate on each side of the main entrance and exit.
The walk-up is not nearly as frightening as it appears from afar.
To get to the summit, you'll have to climb almost 1,200 stairs.
There is a midway station where you may refuel.
The final stretch of the ascent includes steps, making it quite simple. Nevertheless, avoid looking down if you are prone to dizziness. Too busy taking pictures and paying attention to my foot placement to glance down, but others who did say it was uncomfortable looking down. So avoid looking down until you stop moving.
Photographs are not permitting of one of the cave's most treasured attractions, the paintings.
It takes around an hour and a half to reach the summit. A lot more when many people are passing by.
Stop for a bit if you start to feel tired or out of breath. It is an excellent opportunity to enjoy the stunning view that surrounds you up in the mountains.
This site's "Mirror Wall" – a smooth wall covered in ancient paintings and drawings. It is a must-see. But you can't photograph it. But you can take pictures of anything else along the route.
Make careful to avoid the guides and helpers on-site if you do not require their assistance. They can exert considerable pressure on you. But if you say no, thank you, and continue going, they will back off. To ascend, you do not require any assistance.
When you are done, use the "Foreigners leave" signs to return to the parking lot. It is a far faster route than the one we took to get there. You'll find a few stores selling drinks, food, and souvenirs near the foreigner exit.
If I'm frank with you, I'll admit that I was not well-prepared or well-informed before climbing Lion Rock Sigiriya. It caught me simply a few minutes of online research to become enthused about climbing this historic structure.
However, I did not notice any data on how to go about learning them. Since I know better today, sharing what I've learned with you will make your experience much more rewarding than it already was for me. I erred in two ways on this day: first, my attire was not very comfortable, and I lacked water. As a consequence, be mindful not to make the same errors that I did.
You Must Be Fit Enough To Complete This Activity.
A strenuous hour-long stair climbing in suffocating heat and humidity is challenging to reach the Sigiriya Rock Fortress's crown. Even the fittest visitants will find it a sweaty, panting experience. Avoid sounding too much like your mother and prepare ahead of time by being aware of your limits. This stroll may be challenging for you if you are afraid of heights. However, it is safe and worth it, in our opinion.
Is Lion Rock Sigiriya Hard To Climb? No!
Make a mental note of the 1200+ steps. It will take you to reach the top of Lion Rock. Do not be afraid, because this is something you really must do while visiting Sri Lanka. Many are questioning the same topic when speaking about Sigiriya Sri Lanka.
It is a long way up. But there is a secure stairway that takes you to the summit. Well-maintained pathways and stairways well define the ascent. The best place to start is in the terrace gardens, where you get the best view of the Rock. Bring water and a cap with you, as there are no vending machines beyond the entrance and ticket office where you may buy drinks.
Is It Worth It To Buy A Sigiriya Ticket?
The (obviously extremely high) entrance charge has drawn much controversy among tourists. Cost to Lion Rock Sigiriya (and other cultural sites in Sri Lanka) goes to the Central Cultural Fund, supporting monuments and places across the island via upkeep, study, and preservation. The ticket includes the Museum, which describes the history of the old city and some of its most popular features.
Naturally, your budget and interests will dictate whether or not you visit the fortress, but we went on our first trip to Sri Lanka and spent a lot of money on it with no regrets because it is such a unique and intriguing place.
While many suggest visiting the nearby and much less costly Pidurangala for spectacular views of Sigiriya, Pidurangala lacks the more expensive neighbour's recorded history, frescoes, and lovely grounds. We highly recommend going if you enjoy learning about culture and history.
What is Lion Rock Sigiriya Entrance Fee?
Sigiriya is not inexpensive. It costs approximately USD 30 per person. Locals must pay an admission charge of Rs50 to visit the venue. The ticket office locates on a side street adjacent to the main castle gate. And it is permitted from 6.30 am to 6 pm. It's can easily miss. So make sure you stop here first to purchase your tickets before entering the complex.
Do not make the mistake of walking up the stairs without one. Otherwise, you'll have to turn around and retrace your steps. Payment is by cash only. And while there is an A.T.M. adjacent to the ticket office, do not count on it to operate. It did not work when we went, nor did it when some of our friends visited last year.
How Long Will It Take To Hike Lion Rock Sigiriya?
Your fitness level and willingness to see the entire site will affect how far you can go. Those with a moderate degree of fitness who stop to admire the scenery should be able to climb to the top in around 60 minutes. However, it would be best to allow additional time to visit the gardens and the ruins at the top. It drove us about 40 minutes to arrive at the peak. And approximately 30 minutes to return. To sum things up, planning on spending at least 3 hours here.
Sigiriya Waps Are Quiet, So Do Not Appal Them.
You will see safety warnings regarding wasps as you travel through the grounds. Do not ignore these. Large wasp nests may be found all over the grounds and in the rock walls. And regrettably, there are a few assaults each year because of this problem.
According to reports, locals believe they are King Kashyapa's resurrected army, returning to protect his stronghold. Undoubtedly, the ideal way to prevent stung is to move exceptionally softly and avoid aggressive gestures—especially up and down stairwells. In the event of a wasp attack, guests can use the protective mesh cages available. But do not let it deter you. During our time there, we had no problems.
Dresses Are Up to You but Photos
You won't have to cover yourself as much because it is not a religious site or temple-like others in the country, as the nearby Pidurangala. In any case, keep in mind that Sri Lankans dress conservatively, especially while visiting. In addition, in light of the previous warning about wasp attacks, you may wish to dress in layers as a safety precaution while visiting this area.
Some parts of the climb, notably the wall covered in murals, are off-limits to photographers. Please do not ignore the notices. They are intended to help safeguard and preserve centuries-old rock art and should not disregard. If you disobey this regulation, management will seize your cameras without giving you a refund.
What Are the Essentials You'll Need to Bring Sigiriya?
A bottle of water – believe me, you are going to want it in that heat.
Hiking/climbing shoes – You can climb to the top wearing anything on your feet. I even saw some local people going barefoot. I recommend some comfy shoes.
An umbrella. There is no shade at the summit, and so you must supply your own.
Sunscreen – obviously for obvious reasons
Wet wipes/tissues – you are going to sweat, and it will be unappealing.
Wear light clothing – Considering that it will be hot pretty much everywhere in Sri Lanka, I'm going to assume you already do this.
Use anything you can to stay calm. There is no way around how hot the hike up here will be.
Careful about Bees and Monkeys
When monkeys are out and about, they may try to take anything from your bag. Make sure your belongings are secure in your luggage so that nothing terrible happens. For example, if you fly a drone, bees may get hostile. That is why flying a drone is not permitted.
However, they have to fight with massive colonies of giant honeybees that defend portals during certain seasons. Numerous schoolchildren and visitors have been stung and have been hospitalized or evacuated with military assistance.
Visitors are required to wear specific protective garments at times of highest hazard, such as right now. According to reports, workers at the facility have recently used fire and chemicals to kill some bees. In contrast, those working at the tourist attraction say they've solely used Buddhist rituals, including an all-night prayer session, to keep the insects at bay.
Several media outlets have reported on a local tale that says the bees represent King Kasyapa's warriors. It is going to be difficult to limit their activities at this UNESCO World Heritage Site. According to some estimates, Asian honeybees are three times larger than European honeybees and have stingers three times longer.
On the other hand, local scientists believe that if the bees are respected, they will not attack, and they recommend growing trees to serve as alternative nesting locations for the insects. Around Sri Lanka, notably in the Cultural Triangle, monkey species have been forced to make these areas their home for different reasons, earning the term Temple Monkey.
It is the Toque Macaque (Macaca Sinica). Locally called Rilawa (Sinhala). It lives in armies of up to 20 individuals. They can identify by a unique whorl of hair on top of the head. We can see them digging through rubbish, demonstrating a lack of fear of people that demands respect. The lack of woodlands has forced them into cities. We can see many groups near this Lion Rock Sigiriya as a result of these.
Palace Complex of Lion Rock Sigiriya
The Lion Rock Sigiriya is divided into two fortified precincts. The western area is 90 hectares in size, while the eastern side is 40 hectares in size. The west is the royal park, an asymmetrically planned pleasure garden complete with sophisticated water-retaining structures and surface and subsurface hydraulic systems.
Three ramparts and two moats encircle it, producing a rectangular region whose inner precincts measure around 700 meters east to west and 500 meters north to south. The eastern part on the opposite side of Lion Rock seems to have been a ceremonial precinct with just one permanent structure, a massive central pavilion.
Kasyapa and his royal family resided within these fortifications. A succession of boulder gardens and later terraced gardens go from the two precincts in an ever-increasing way to the entrance to the Lion Rock Sigiriya. The tunnel to the Rock begins on the west side of the terrace gardens and winds north along the Mirror Wall to the Lion Platform.
Lion Rock Sigiriya Mirror Wall
Initially, this wall was so polished that it allowed the King to see himself as he walked across it. Made of brick and plastered in a highly glossy white finish, the wall is now partially covered in poetry written by visitors dating back to the eighth century. However, most of them are from the ninth and eleventh centuries.
The wall was written on by people from all walks of life, from poets to regional governors to homemakers. Even bhikkhus were not spared. They composed poetry on a variety of topics, including love, irony, and diverse experiences. It is the sole instance of poetry being discovered during the Anuradhapura era.
These poems are considered of significant literary merit due to their sophisticated use of symbolism and wordplay methods. One such instance is
"බුදල්මි. සියොවැ ආමි. සිගිරි බැලිමි. බැලු බැලු බොහො දනා ගී ලීලුයෙන් නොලීමි."
"My name is Budalmi. I travelled alone to Sigiriya. Because everyone else wrote poems, I did not"
"ඇසිමි දුන් හසුන් හසුන් සෙයින් විල් දුත්
මුල ලා මා සැනැහි පුල් පියුමන් සේය් බමර් දුත්"
As with geese that had seen a lake, I listened to her message.
As though a bee had spotted full-blown lotuses, my confused heart was comforted.
This elegant stanza demonstrates that the ancient Sinhalese were talented poets as well. The pairing of hasun (message) with hasun (message) shows that they not only had an excellent grasp of rhyme and meter but also used a literary device known as a 'play on words' (geese). A bee's obsession with lotus blossoms, which have broad petals that provide it with an easy landing platform to sip its nectar and play if it so desires, might be contrasted to the poet's yearning to hear from his lady love.
The majority of the more than 1500 poems, including those found in the frescoes, are devoted to the women shown there. Men extolled their virtues, and women were envious of it as well. The feelings of a modern woman, who is not as enamoured with the paintings, are, nonetheless, no less powerful.
The old writings on the mirror wall have been protected by banning new writings on them. Senarath Paranavithana, Ceylon's Archaeological Commissioner, decoded 685 poems on the mirror wall from the eighth, ninth, and tenth centuries C.E.
Lion Rock Sigiriya Paintings
The paintings from the 5th century A.D. are without a doubt the pinnacle of Sri Lankan artistic achievement. An area on the western rock face of the cliff has nineteen paintings of stunningly lovely damsels floating in clouds. However, 500 of these figures were initially painted across west and northern rock faces, according to Sigiri graffiti (verses etched into Mirror Wall throughout time).
"The entire face of the hill appears to have been a giant picture gallery… maybe the biggest painting in the world," John Still wrote in 1907."
Exist a plethora of beliefs as to what these ancient masterpieces' gorgeous women are like? According to H.C.P. Bell, these women are Kasyapa's concubines carrying flowers to donate at the nearby Pidurangala temple. The damsels are Apsaras, or deities, according to renowned researcher Ananda Coomaraswamy.
Prof. Senerat Paranvitana, a renowned Sri Lankan archaeologist, proposes a novel theory on the identities of the Sigiriya damsels, arguing that they are symbolic representations of rain and lightning. Dark-skinned maidens (Meghalatha) represent rain clouds, whereas Vajji Kumari, who had a bright golden complexion, represented lightning.
The Caves in the Boulder Garden, in addition to containing these paintings, also appear to have held pictures. These may be seen at the Deraniyagala and Cobra-hood caves, as well as the Asana Caves. Furthermore, it recently revealed that the Mirror Wall's exterior surface had been painted. Even though these paintings have all faded, one female figure may seem seemingly hovering in the skies.
Archaeological digs in Sigiriya, Sri Lanka, uncovered Terracotta figurines that resemble the tire figures seen in the paintings. These might be reproductions of Sigiriya Damsals sold as souvenirs in the past, according to Prof. Senaka Bandaranayake, the man in charge of the archaeological work at Lion Rock Sigiriya.
Even though the frescoes date from the Anuradhapura period, their painting technique is unique. They differ from Anuradhapura paintings in terms of line and application manner. As a result, the lines are painted in a way that emphasizes the figures' volume. A richer colour tone is created near the edge by applying tremendous pressure to one side of the canvas when painting.
Similar techniques to painting can see in other Anuradhapura paintings. But they lack the squiggly lines of the Sigiriya style, which clearly defines the boundaries of the painters' work. The illustrations in these photographs are very similar to those seen in India's Ajanta Caves.
The Gardens of Sigiriya
Lion Rock Sigiriya Gardens are an indispensable part of the site since they are among the world's oldest designed gardens. Terraced gardens, caves and boulder gardens and Water gardens are the three types of gardens found here.
Locating on the western side of the Lion Rock complex, three sub-sections of the water gardens can identify. The first was a vast site surrounded by water and connected through four canals to the main structure. The second was a walkway flanked on either side by two long, narrow ponds fed by neighbouring streams. The third water garden is identified by its octagonal pool with a fortification on its northeastern corner.
The Boulder Garden is a sloping area centred on a large boulder littered with rocks of varying sizes. The paths leading to the castle on the granite top weave through the boulder garden, accentuated by natural boulder arches.
Among the garden's unique features are;
The Cistern Rock – takes its name from a large cistern carved out of a natural boulder and large granite slabs.
The 'Audience Hall' – features a five-meter-long central throne carved out of living Rock.
The 'Preaching Rock' – features a seat carved out at the flattened edge of a fairly large boulder.
The 'Asana Cave'- features out inside a natural cave.
This region also contains rock caverns with drip-ledges and shrines used during the centuries when Lion Rock Sigiriya was a Buddhist monastery.
The natural hill produces terraced gardens at the base of Lion Rock. They are located on the high land between the Boulder Garden and the Sigiriya rock. Stone retaining walls shape it into a series of roughly concentric terraces. A limestone staircase forms the path through the tiered gardens. A covered route on the rock face leads from this staircase to the topmost deck, where the lion staircase locate.
Miniature Water Gardens
The small water gardens are located right inside the west gate and just beneath the interconnecting ponds of Garden 1. This garden divides into at least five separate parts. Each of which has brick and limestone pavilions with paved water-retaining structures and twisting waterways.
The pavilions inside the complex, measuring 90 meters long and 30 meters broad, were cooled by slow-moving water cascading over the pebbled and marbled flooring. An extensive network of underground conduits connects the pools and pavilions, a hydraulic system even more intricate than that found in Water Garden 2's fountain gardens.
Water Garden 1
Water Garden 1 is locating just across from the tiny water gardens from the central (west) entrance. It comprises four interlocking, L-shaped pools that connect by crossing pathways aligned with the cardinal directions—North, South, East, and West. The centre space between the four pools was previously an elegant pavilion.
The pools south of the main road (the only ones that have been rebuilt) have polished walls, an adjoining patio, and steps down to the water. These pools were part of a larger pleasure garden complex that the royal family frequented, a tranquil environment of water and foliage. The four pools connect through subsurface pipes that control the water level.
Water Garden 2 – The Fountain Gardens
Water Garden 2, commonly known as the Fountain Gardens, is one of the most beautiful gardens globally, is accessible by continuing along the main path from Water Garden 1's central axis. This one situates on each side of the way connecting the boulder and terrace gardens, divided into two sections. Two long ponds with tiered cross-sections locate in the bottom /western part.
They were likely initially used as storage or pressure chambers for the winding streams and fountains above. These ponds feed by tiny streams lined with marble slabs. Fountains comprised of round perforated limestone slabs are interspersing across these streams.
The fountains are supplied with water via underground water pipes and are gravity fed. Surprisingly, the fountains continue to work throughout the wet season (nearly 1500 years after being erected). The top part of the Fountain Gardens (the eastern portion, nearest to Sigiriya Rock) retains its distinguishing characteristics, including a winding stream and the ruins of a royal pavilion with the throne.
Water Garden 3
Water Garden 3 is the biggest of the four gardens in terms of area. It is located north and south of the Fountain Gardens and is mainly hidden from view. The central section of this park comprising of two islands that house King Kasyapa's Water Palaces. The moats separate them from the rest of the water garden complex, and the trees and stones conceal them.
These circumstances contribute to the water garden's near-invisibility to tourists on the main path to Sigiriya Rock. Water Garden 3 is a transitional garden; beyond the northernmost island, The Octagonal Tank separates the Water Gardens from the Boulder Gardens.
Sigiriya Water Technology Ancient Time
It is set up in such a manner that it can work automatically dependent on seasonal rainfall. When it is raining, and there is no electricity or pumps, this is what you need. Take a look at how advanced technology was even in ancient times.
King Kasyapa constructed the gardens, lakes, and fountains in the fifth century A.D. as part of the Rock's transformation into a fortress. He spent countless of his period on his water gardens, lazing about in his water garden and watching his 500 wives soak in the sun beneath the Great Rock. Considering it was created 1600 years ago, the most impressive creation was the hydraulically advanced gravity-fed fountains system.
Large water storage tanks were constructed at the peak to hold extra water that would not need right away. On release, it ran underground to a series of round limestone plates with symmetrical holes, passing via clay pipes and brickwork conduits. Afterwards, the water erupted many stories in the air, creating a Royal spectacle and providing welcome relief from the oppressively hot Sri Lankan weather.
When it's rainy, the fountains will bubble up roughly a meter, despite their evident state of deterioration. The fountains operate to some extent during the wet season. The water gardens locating in the western precinct's middle part. Three significant gardens are here.
These water gardens intend to serve as a pleasure palace, a place for the royal family to unwind. Each park is unique in its way. The majority of the pools in the Minature Water Garden and Water Garden 1 are bathing pools. The Fountain Garden is essentially a demonstration of Lion Rock Sigiriya hydraulics. Garden 3 functioned as the hidden Water Palace apartments.
A Walk to the Novel Sigiriya Museum is Fascinating
Visitors to Sigiriya Sri Lanka blowing with stunning architecture entrenched in the region's rich culture and history. However, the old Lion Rock fortress ruins conceal a great deal more than meets the eye. Pay a visit to the Museum if you are interested in learning more. It is better to visit at the beginning of your journey in advance to make the trip informative.
It is known as one of the most beautiful museums in South Asia. It runs by the Central Cultural Fund and symbolizes the city's cultural, technical, and archaeological significance. The Museum exhibits an archaeological study conducted on Sigiriya, a UNESCO World Heritage Site. Each exhibit would present the visitor with a unique opportunity to interact with artefacts from various eras.
The Museum and the reconstructed gardens will provide a different experience than seeing Lion Rock Sigiriya itself. Sigiriya's elegant architecture influenced the Museum's design. It adhered to the Green Building idea, making judicious water and plants to provide an immersive experience.
Additionally, the levels are constructed so that visitors may experience the Sigiriya climb via the increasing terraces and giant stairways. To enter the Museum, visitors must pass through a brick tunnel built to resemble the archway of the Sigiriya stronghold.
Within are exhibitions of different objects discovered during archaeological digs, including a human skeleton, tools, gems, and sculptures. Additionally, the galleries are brimming with sketches, pictures, and information for their guests, obviating the need for a guide. Among the most significant artefacts are the iron melting kiln and the gold earring with a purple tone embedded in it.
Museum Gallery 01 – Prehistoric and Protohistoric Transitions
This gallery highlights prehistoric and protohistoric transitions, as well as geology, archaeology, and periodization. Sigiriya's and the surrounding area's iron-producing technology.
Museum Gallery 02 – The Early and Later Buddhist Monasteries
This gallery highlights the early and later Buddhist monasteries inside the Lion rock complex and surrounding area. An early Buddhist monastic settlement was constructed at Lion Rock Sigiriya.
Museum Gallery 03 – The Royal City and 'Golden Age
This gallery depicts the fifth century's Kasyapa tale and urbanization, architecture, art, and garden design. The Kasyapa period (477-495 AC), often known as the golden age of Sigiriya, reveals Sri Lanka's oldest urban planning and building system. The royal city comprises fortifications, moats, gates, water systems and gardens, mirror walls and murals, a lion staircase, and a rock-cut palace.
Museum Gallery 04 – Paintings, Graffiti, and Terracotta Sculpture
This gallery features Lion Rock Sigiriya paintings, graffiti, and terracotta sculptures. There are various replicas of paintings on display at the western rock wall and boulder garden. Several graffiti poetry was created by visitors between the 6th and 9th centuries, and ceramic sculptures were built in the boulder garden between the 7th, 8th, and 10th centuries.
Museum Gallery 05 – Sigiriya's courtly and monastic life and foreign commerce
Courtly, ascetic, and international commerce are all shown in this collection. Ceramics, coins, sculptures, and pottery, coinage, and courtly artefacts were discovered on Lion Rock and its suburbs between the fifth and ninth centuries. Due to international commerce, they have brought from east and west – India, China, the Gulf, and the Roman Empire.
Museum Gallery 06 – The 'hidden centuries' of archaeology
This gallery details the history of archaeology and the buried centuries, and future investigation. This gallery depicts modern history from 1890 to 2000. It demonstrates how the extensive and multidisciplinary examination began.
The Sigiriya Fresco Gallery
Duplicate fresco pocket with identical artwork to those found in the original fresco pocket.
Every month, the Museum will host activities to highlight Sri Lanka's rich cultural heritage. The program includes traditional dance and theatre performances. These performances will take place at the Museum's Open Air Theater. The Museum hosts cultural activities that are well-attended by both locals and visitors.
Sigiriya Museum Entrance Fee
Tickets for the Museum include access to the Sigiriya Rock Fortress climb.
| | | |
| --- | --- | --- |
| Full | Half | visit only The Museum |
| US $ – 30.00 | US $ – 15.00 | US $ – 5.00 |
| Rs. – 11100.00 | Rs. – 5550.00 | Rs. – 1850.00 |
Tourism Culture Around Sigiriya Lion Rock
Sri Lanka is still in its early stages of being a popular tourism destination. As a result, Sri Lanka features unique areas that are largely unknown. Lion Rock Sigiriya is possibly the most popular tourist destination in Sri Lanka, attracting visitors worldwide.
But what exactly is it or Why is it so popular?
In the classic sense, Sigiriya is neither a resort nor a city. In reality, the Rock occupies the central location in and around which the ancient city of Sigiriya was built. When discussing Sigiriya, this attractiveness is often mentioned. This location includes in UNESCO's list of world-historic sites in 1982.
The Sigiriya archaeological site is the crucial reason for Sigiriya's fame among foreign travellers. The Sigiriya rock fortress stands among Kandy, Anuradhapura, Dambulla, and Polonnaruwa in terms of historical significance and importance to tourism.
How Was Lion Rock Sigiriya Formed
Sigiriya, often known as Lion Rock, is a massive monolith in central Sri Lanka. The Rock towers over the surrounding lush green vegetation at the height of roughly 200 meters. Granitic material makes up the bulk of its construction. Kassapa Lion Rock is the remnants of a long-decayed volcano's hardened lava plug.
There were several active volcanoes near Sigiriya about two billion years ago. And this structure was built from one of them. As molten lava erupted from the earth's core, it carved out many mountains of various heights on the surface. Eventually, the volcano's activity dwindled to a halt. Wind and rain have gently worn the volcano's exterior surface, revealing the hardened magma core underneath.
It is important to note that the 200-meter-long lava plug is the very tip of a much longer hardened lava shaft. In and around lion Rock, there are countless granite rocks strewn from the once-flowing volcano's lava. Less than a mile away, Sigiriya's neighbouring Pidurangala was similarly constructed in the same fashion.
What Happened after After Fall of the King Kashyapa
For generations, Lion Rock Sigiriya was abandoned. But was eventually taken up by a Buddhist monastery, which occupied the area until the 14th century. Within the 14th and 16th centuries, there are no traces of operations at Sigiriya Sri Lanka. In the 19th century, Kandyan kings started to utilize it as a military outpost.
Later, in 1832, a British military officer, Jonathan Forbes, restored Lion Rock Sigiriya to historical prominence. On a horseback ride around the island, he spotted the bush-covered top of Sigiriya. The Archaeological Department began archaeological activities in 1894, under the leadership of H.C.P. Bell. It would be another twenty years ere the natural rock structure was reintroduced to the public eye; British explorer John Still's tour to Sigiriya in 1907 ignited worldwide debate and revived interest in Sri Lanka's treasure.
Nearly a century later, in 1982, the Central Cultural Fund took up the job, which it has successfully completed until the current day. Historians first learned about the Lion during this period, whose head had fallen from the Sigiriya gate long before.
How Fall of the King Kashyapa
In some versions, the King is poisoned by a concubine. In others, he commits suicide by cutting his neck during his final battle. Moggallana gathered an army in India intending to return to Sri Lanka and reclaim the crown he believed was rightly his. In 495 CE, he finally came, launched a war, and conquered Kashyapa. Kashyapa's soldiers deserted him during the battle, and he killed himself by falling on his sword.
According to the Culavamsa and legend, Kashyapa's battle elephant changed direction to gain a strategic advantage. But the army mistook the manoeuvre as the King chose to flee. It was causing the soldiers to desert him entirely. He is reported to have taken his dagger from his belt, slashed his throat, triumphantly lifted the sword, sheathed it, and died.
Moggallana restored Anuradhapura as the capital. And he turned Sigiriya into a Buddhist monastic complex that lasted until the 13th or 14th centuries. Sigiriya was not mentioned again until the 16th and 17th centuries until it was used as a temporary outpost of the Kingdom of Kandy.
Directions to Sigiriya Sri Lanka
Lion Rock Sigiriya can access by bus from Dambulla, Jaffna, Kandy, and Trincomalee, major cities in Sri Lanka. The nearest city near is Dambulla, which is around 25 kilometres distant. We propose travelling to Lion Rock Sigiriya from Dambulla, halfway between Kandy and the historic rock castle, to save time and make the trip more convenient. And also home to the famous Dambulla Rock Temples.
There are two modes of travel available from Dambulla:
BY BUS – Upon arrival at the Dambulla Main Bus Station, board a regular bus to Sigiriya. They run every 30 minutes between 6:45 am – 6:00 pm. The tour will take around an hour, and tickets will cost approximately L.K.R. 50 per person, one way. The last bus stop is only a 5- to 10-minute walk from the Sigiriya Rock Fortress's main ticket booth.
BY TUK – Alternatively, you may hire a tuk-tuk in Dambulla for between LKR 1000-1600, depending on how successfully you bargain your fare. The tuk-tuk ride takes around 30 minutes and is an excellent alternative for anyone staying in Dambulla but wishing to view Lion Rock Sigiriya, especially in the early morning light.
If you are coming from Kandy, the simplest and most cost-effective option is to take the 72-kilometre bus to Dambulla, then follow the directions above to Sigiriya.
BY BUS – From Kandy Central Bus Station, take the direct bus to Dambulla, opposite the train station. The travel should take around 2.5 hours, with buses departing approximately every 30 minutes. There are express and regular services (stopping at all stations). The bus will cost around LKR 200, or about USD 1 per person. Transfer to a Sigiriya bus service or tuk-tuk in Dambulla, as described above.
BY TUK – We do not suggest this since the entire cost will be too high and unneeded in light of the availability of public transportation.
Unless necessary, we strongly advise against travelling from Colombo to Sigiriya since it requires a whole day spent switching between numerous buses or tuk-tuks. If you must use this path, the following details apply.
BY BUS – From Colombo Fort, take a bus to Anuradhapura or Kurunegala (route 15) and change at Dambulla. Additionally, you may use bus #87 or #759. Tickets to Dambulla cost approximately $2-3, and the travel to Sigiriya takes around 6-7 hours.
Train line – There is no direct train service between Colombo and Dambulla. The only alternative is to travel from Colombo Fort to Habarana and then arrange for private transport. Again, in our opinion, it is not worth it.
Things to do in Sigiriya Sri Lanka & Places to See Around
Sri Lanka's tiny hamlet of Sigiriya, home to the fabled Lion Rock Sigiriya, has become a tourist hotspot. It is without a suspicion one of the most breathtaking sights in all of Sri Lanka. Although you may have enjoyed seeing the rock temple, Sigiriya and the surrounding area have a lot more to offer than just that.
Even with all of the sightseeing, there are just a few fantastic things to do in Lion Rock: climbing the famous Lion Rock Sigiriya. Visit these tourist attractions and activities to have a better understanding of Sri Lanka's cultural heart.
Pidurangala Rock
Don't limit yourself to only scaling Sigiriya Rock's face. Climb Pidurangala Rock, which is directly across the street from Lion Rock, if you have time. Sigiriya's lesser-known rock temple is Pidurangala Rock.
Even though Kassapa Lion Rock is the most recognized site in Sigiriya, it is one of the most fantastic things to do there. Visit at sunset for the most pleasing experience. The sights are more superior as well as the temperature. There are steps up to the top of Pidurangala Rock, except for a few stones to jump over.
Pethikada paintings and crafts
Pethikada is a modest art gallery located in the heart of town that has gained some notoriety due to word of mouth. Jagath, a resident, paints all of the artwork himself, and his technique is reminiscent of the ancient pictures discovered on Sigiriya Rock.
For many, purchasing a Pethikada artwork is the ideal keepsake. However, even if you are not looking for a souvenir, try going by for a short glance at the artwork. This modest art gallery has so much to offer that you must pay a visit.
"Sigiriya Handyman."
Sigiriya's local man's workshop is another popular attraction that has grown due to word of mouth. This guy is a metalsmith who does a wide range of work. The materials he uses to create his pieces include silver, brass, and copper.
You are welcome to meet him and learn about his work even if you don't plan to buy anything. You're under no need to make a purchase, but I will warn you that it will be alluring. All of the work is stunning, and the rates are fair.
Visit Dambulla Cave Temple
The Dambulla Cave Temples are about a 30-minute drive from Sigiriya. These are some of the most revered temples in Sri Lanka. They are in excellent condition and are incredibly ancient. Indeed, they discovered 2,700-year-old human remains in the temples.
It would be best if you trekked up a flight of steps for around 10-15 minutes to reach the temples, but the effort is entirely meriting it since the scenes are magnificent. Going to sunset is really enjoyable. Once inside the temples, visitors are required to remove their shoes and cover their shoulders and knees. Bring the appropriate apparel with you as they may not always have sarongs available for hire.
There are five distinct temples to tour. They're all right, close to one other. Numerous Buddha sculptures are inside the temples and stunning murals on the cave walls. After touring the underground temples, descend the hill to the massive Golden Temple.
Added top attraction in the city of Dambulla. This Buddha statue is enormous, and the trek to get there is also quite pleasant. You may visit the temple on your own or join an organized tour for the admission charge of around 3700 rupees. The temple is permitted from 7 am to 7 pm. However, the ticket desk shuts at 5 pm.
Visit Sigiriya to Anuradhapura
The ancient city of Anuradhapura is listed as a UNESCO World Heritage Site by the organization. This city has been around since the 10th century B.C., according to historical records. It was a holy city for Buddhists, with temples and monasteries covering 42 square kilometres of land.
Anuradhapura offers far too much for visitors to see and experience in one day. The best way to see and do everything is to hire a guide from Sigiriya for the day and embark on a tour. You may learn a lot about the history and religion of the places you visit while still getting a lot done.
The USD 25 UNESCO World Heritage Pass includes access to several of Anuradhapura's top attractions. As the office where these passes are purchased is closed on Tuesdays, avoid visiting Anuradhapura on that day.
Sigiriya to Trincomalee for a day at the Beach
The east coast of Sri Lanka is worth a day trip even if you are just in for a few days and don't intend to remain there. Trincomalee can be reached in roughly 1.5 hours by automobile from Sigiriya. The Beach at Trincomalee is lovely, and it's a great location to unwind in the sand and marvellous sea. Marble Beach, a short drive away, is likewise spectacular and well worth a visit.
If you have the time, I recommend staying in Trincomalee rather than making the trip from Sigiriya in a day. If you just have a few hours to spare, a trip to the beach for an hour or two would suffice.
Visit Rose Quartz Mountain
Rose Quartz Mountain's base is around 45 minutes to an hour away from Sigiriya. However, believe me when I say it is definitely worth the journey. It is Southeast Asia's largest of its type. You stroll through a forest, through some ruins that you may investigate, and finally up a Rose Quartz mountain. It's pretty lovely.
The mountain is not blazing pink in colour. But it does have a dusty rose tone. And wherever you tread, you can see quartz beneath your feet. It would be best if you spent USD 5 to ascend the mountain. The trek takes approximately an hour and is not too strenuous, but I recommend sturdy shoes as certain sections are rather steep.
Kaudulla National Park Jeep safari from Sigiriya
During October and November, elephant herds from Minneriya National Park migrate towards Kaudulla National Park. So, if you are visiting Sigiriya in October or November, go to Kaudulla rather than Minneriya. In Kaudulla, you may also observe a variety of other wild species, including the endangered leopard. A tour here will cost you roughly USD 40.
Where to stay in Sigiriya
When it comes to hotels, you have two alternatives. Dambulla is just 30 minutes distant, yet it offers more places in every price range. The majority of Sigiriya lodging is a little more expensive. But it allows you to explore and make the most of the beautiful beauty in this location. Some hotels even offer direct views of the rocks from their suites.
Il Frangipane
IL Frangipane in Sigiriya has guestrooms, a restaurant, free private parking, free bikes, and an outdoor swimming pool, and it is 1.1 mi from Sigiriya Rock. The yard has a garden and a terrace 2.7 miles from Pidurangala Rock and 0.7 miles from Museum. The air-conditioned rooms include a garden view, a closet, and free WiFi.
Habarana Eco Treehouse
If you are searching for something out of the ordinary, consider the Habarana Eco Treehouse. It is not a treehouse because it is not in a tree. But it is suspended in the air on stilts. To get to your accommodation, you must climb a rustic ladder. It is not for individuals who have vertigo or are unsteady on their pins. The lodging is simple. But there is power and hot water. The owners prepare the food, which is delicious local fare.
Habarana Village by Cinnamon
Chaaya Village Habarana, which offers bungalow-style lodgings surrounded by vegetation, is a 15-minute drive from Minneriya National Park. The hotel has an outdoor pool as well as tennis, volleyball, and badminton courts. It is an hour's drive from the Cultural Triangle of Sri Lanka.
It takes 6 hours to drive from Bandaranaike International Airport. The air-conditioned rooms at Chaaya have hardwood furnishings and individual terraces. Each room contains a television with cable channels, a safe, and tea/coffee making facilities. Azmaara Spa offers a variety of services, including massages, manicures, and pedicures. Hiking in the Ritigala bush or riding an ox cart in Hiriwadunna are two of the hotel's tours.
Habarana Village by Cinnamon
Chaaya Village Habarana, which offers bungalow-style lodgings surrounded by vegetation, is a 15-minute drive from Minneriya National Park. The hotel has an outdoor pool as well as tennis, volleyball, and badminton courts. It is an hour's drive from the Cultural Triangle of Sri Lanka.
It takes 6 hours to drive from Bandaranaike International Airport. The air-conditioned rooms at Chaaya have hardwood furnishings and individual terraces. Each room contains a television with cable channels, a safe, and tea/coffee making facilities. Azmaara Spa offers a variety of services, including massages, manicures, and pedicures. Hiking in the Ritigala bush or riding an ox cart in Hiriwadunna are two of the hotel's tours.
Sigiri Royal Point Tree House
Sigiri Royal Point Tree House is resided in Sigiriya, 1.3 kilometres from Sigiriya Rock, and offers accommodation with a restaurant, free bikes, free private parking, and a garden. This facility provides room service as well as a water park to visitors. The hotel's front desk is open 24 hours a day, with a shared kitchen and currency exchange facilities for guests' convenience.
Pidurangala Rock is 3.9 kilometres away, while Museum is 3.2 kilometres away. The nearest airport is SLAF China Bay, located 81 kilometres away from Sigiri Royal Point Tree House, and the resort provides a chargeable airport shuttle service.
Panoramic Rock View Villa
The Panoramic Rock View Villa is located 2.6 kilometres from Sigiriya and 5 kilometres from Pidurangala. The hotel has a 24-hour front desk, room service, and currency exchange for visitors' convenience. Each room at the hotel has a desk, bed linen, and a patio with a lake view. The hotel offers à la carte and Asian breakfast selections every day.
Panoramic Rock View Villa is 2.3 kilometres from Museum. The nearest airport is SLAF China Bay, 82 kilometres away, and the hotel provides a chargeable airport shuttle service.
Any Alternative to Lion Rock Pidurangala?
If you plan a trip to Sigiriya village in Central Sri Lanka and aren't sure where to go or what to see, this guide can help you make some decisions. We can make a comparison for you. Furthermore, as we did, this post will serve as an excellent guide if you are climbing them both.
Pidurangala Rock, located beside the world-famous Lion Rock Sigiriya, offers an incredible 360-degree panorama. Exploring to the summit of any of these rocks is conceivable. But walking to the top of Pidurangala Rock before dawn is a real experience. The best part is that you get a great perspective of Lion Rock itself, which is truly unique. It is a memorable moment on any journey to Sri Lanka.
Quick Facts Climbing Pidurangala Rock
A 30- to 40-minute trek.
The admission price is 500 LKR.
At the start of the route, you must cover your shoulders and knees and remove your shoes.
Cover-ups are occasionally offered, but carry your own during busy months.
Excellent for dawn and sunset.
The ticket office is open from 7 am to 5 pm, and you may stay at the Rock until it becomes dark.
There are snakes in the neighbourhood, so be cautious.
Hike of moderate difficulty.
There will be no plastic permitted.
There are no bathrooms at Pidrangala Rock or along the path.
When King Kasyapa came to Sigiriya, Pidurangala Rock was converted into a Buddhist monastery. The monks were initially based in the caverns of Sigiriya but were relocated to Pidurangala to allow Kasyapa to construct his stronghold atop Kassapa Lion Rock. It was known as Pidurangala Vihara, which translates as Pidurangala Complex.
Pidurangala Rock is a nearly 200-meter-tall rock situated north of Lion Rock, which is just 1 meter taller. Climbing Pidurangala is quite easy in the starting. But only the latter section is challenging. As with Sigiriya, there are steps in certain areas. But they do not lead to the summit of Pidurangala.
You must be able to climb since there is one Rock at the finish that requires you to climb on all fours and like an animal. The last ascent of Pidurangala is treacherous. While climbing Sigiriya is simpler, climbing Pidurangala is more enjoyable if you can endure the final section.
How Long Does Climbing Pidurangala Take?
We arrived at the summit of Pidurangala in less than 20 minutes. It was since there were few people and the weather was pleasant. However, if you climb during "hot hours," you will undoubtedly take longer.
There are several chambers within the Pidurangala complex, although not all of them can be accessible. At the entrance, there is a Buddhist Temple. As you climb, you will come to a place with a gigantic reclining Buddha statue, which reaches 12.5 meters There are frescoes within as well. Although most tourists overlook them, if you are going, you should check them out.
Pidurangala is mainly about the vista, which you will discover when you reach the summit. The view from the summit is far superior to that from the top of Sigiriya. It is thus because the spectacular shape of Lion Rock can be seen from Pidurangala. On the other hand, it appears not to have a distinctive form and is visible from the summit of Sigiriya. From the top, you can also see a massive Buddha statue, Kandy's hills, and the village of Sigirya.
What to wear while climbing Pidurangala?
You must pass through a Buddhist temple and a monastery. Therefore you cannot wear anything you want. Cover your legs and shoulders. You may merely wear a sarong to cover your legs and a scarf to cover your shoulders, then remove them after passing the temple.
You can't climb with your scarf and sarong on since your hands need to be accessible for the last half of the climb. In reality, you should carry a small backpack and maintain it with your basics, such as a water bottle, camera, and so on.
Another advantage of visiting Pidurangala is that the admission charge is merely 500 LKR (3 USD). It is also the most popular among backpackers and budget visitors due to its low prices. Both rocks are worth seeing, but Pidurangala is the clear winner in terms of adventure and scenery.
Experience the dawn from the summit of Pidurangala, as the first rays of light touch the surrounding environment and the morning mist clears from the forests. It's a magnificent site and time in Sri Lanka that should not be missed.
What is on top of Pidurangala?
The only thing I could see was a level surface. It's nothing more than a relaxing spot to take in the scenery. You don't need much more, in my opinion, with such a view. Sigiriya Rock's gardens, on the other hand, easily beat Pidurangala Rock's attractions for me.
Conclusion
Many of the data about Lion Rock Sigiriya instructed guesses based on archaeological findings, approximate translations, well-documented historical events, and occasionally just myths. For instance, we are unsure whether Kashyapa initiated building on Lion Rock or just completed his father's labour.
At this limit, we can only conjecture about what Sigiriya was used for. It may have been anything from a defensive fortress to some religious centre. We know Kashyapa deposed Dhatusena, finished Sigiriya's construction, and then took place before dying in battle there. That's all we know about him at this point.
The rock palace of King Kashyapa, a minor figure in Sri Lankan history, stands as a monument to early Sinhalese engineering and design prowess. At the same time, when Europe was going through the Dark Ages and losing its civilization, Sri Lanka was thriving. If Kashyapa's narrative teaches us anything, it's that no amount of fortification will be able to protect against illegitimate claims to the throne.
Despite being one of Sri Lanka's most attractive places and a UNESCO world heritage site, the country receives very few tourists. But this is improving. Heavy tourism, overdevelopment, and commercialization continue to be a non-issue in Sri Lanka. If you want to see it in its natural state, go now.
LION ROCK SIGIRIYA FAQ
1. Who Built Sigiriya's Rock?
In the fifth century, Kashyapa I, the ruler of the local Sinhalese dynasty known as the Moriya, began construction on Sigiriya. For over a millennium, until Kashyapa was conquered in A.D. 495, the towering castle served as the kingdom's administrative centre.
2. Opening Time of Sigiriya Lion Rock for Visitors?
The ancient site is accessible from 7 am to 5 pm daily for visitors (last entrance at 5:00 pm).
3. Entrance Fees for Lion Rock Sigiriya
30 USD per person / 30 USD for foreigners Only citizens of SAARC countries will be charged USD 15 per person (Need to submit the passport to get this discount)
4. How Many Stairs Are There To Climb At Lion Rock Sigiriya?
There are 1270 steps. Not everything at once. Because of the heat and humidity, it is a medium to tough climb. However, anyone up to the age of 70 will be alright.
5. What Is The Height Of The Lion Rock Sigiriya?
Located at the height of 1,144 feet (349 metres) above sea level and around 600 feet (180 metres) above the surrounding plain, the rock is so steep that its apex overhangs the slopes on both sides of the mountain.
6. What Is The Best Time To Climb Sigiriya Lion Rock?
Climbing Sigiriya Rock is best done early in the morning before the sun begins to heat up or late in the afternoon when the temperature calms down.
7. Is It Hard Or Dangerous To Climb Lion Rock Sigiriya?
It is not dangerous to climb but make sure you are healthy enough to climb. Only the last ascent up metal steps is challenging. They may be hazardous when they're slick, so it's understandable if some people are apprehensive.
8. Can An Elderly Citizen Climb The Castle Of Sigiriya's Lion Rock?
Yes, individuals do, and you may take the time to climb. There are resting and climbing areas. We recommend that you keep older citizens at a neighbouring restaurant while you ascend. Additionally, you may take them to the Sigiriya museum, which locates near the main entrance.
9. Can I Climb Lion Rock With My Infant Or Kid?
Although it is not suggested, individuals climb with children as young as eight years old and older.
10. What Is The Temperature Of Lion Rock Sigiriya?
Approximately 27 – 30 C
11. Can I Buy An Entrance Fees Ticket Online?
As of right now, this is not available, but it will be available shortly.
12. What Is The Dress Code For Sigiriya Lion Rock?
Sigiriya is neither a temple nor a religious site; therefore, you are free to dress as you choose.
13. How Did Lion Rock Sigiriya Form?
About 2 billion years ago, it was created. It's a massive block of solidified magma that blocked a volcano's vent. Volcanoes formerly dotted the landscape, but they are now gone. Sigiriya Rock and Pidurangala Rock are all that remain.
14. What is sigiriya in Sri Lanka?
Sigiriya is a rock fortress in the centre of the ancient city of Dambulla in Sri Lanka. This territory has many fascinating features but is best known for two rock formations – one with three caves and the other with five caves.
15. What to do in Sigiriya, Sri Lanka?
You can climb Lion Rock. The Pidurangala Rock is also a fantastic place to visit for those interested in climbing or bird watching. Visitors with interest in Buddhist culture should not miss out on Dambulla's cave temples, Golden Temple, and many other attractions.
16. What to see and do in Sigiriya?
There are many things to do at Sigiriya. Pidurangala rock, located near Sigiriya, offers breathtaking views of the area and provides an opportunity to appreciate the skilful carvings on the rock by Buddhist monks who lived in this area centuries ago. It is not hard to reach Pidurangala Rock, but it does require climbing up some steep steps. Dambulla Cave Temple also offers some fantastic views, and there are many more places worth checking out at Sigiriya Fort.
17. What is Sigiriya famous for?
Sigiriya is famed for its rock-cut architecture, which many artists have admired since it was built. In particular, Sigiriya is well known for its unique stone carvings and sculptures, especially those depicting the image of Lord Buddha.
18. Where to eat in Sigiriya, Sri Lanka?
Eating out in Sigiriya Sri Lanka is a unique experience as you can try local food prepared with fresh herbs and spices from their garden. There are also some regional dishes that are prepared with milk from the buffaloes that live on the mountain slopes near the town.
19. Where is pride rock in the lion king?
Sigiriya is a World Heritage Site in Sri Lanka where a large rock with a lion on top has been carved. The rock is also known as pride rock because of the prominent Lion carved on it.
20. Where is sigiriya Sri Lanka?
Sigiriya is located in Matale District, close to Matale town and not far from Dambulla town. Sigiriya is around 3 kilometres away from Matale, and it can be reached by road. The Sigiriya plateau is a 7-10 minutes' walk from the centre of Sigiriya village at an altitude of 1,542 meters (5,067 ft).
21. Where to stay in Sigiriya?
Sigiriya has several options to stay during your visit. One of which is Sigiriya Guest House, located in Gall Falls, Dambulla. Another option is Ritigala Hotel, located on the main road leading to the Sigiriya rock fortress entrance.
22. Where to stay near Sigiriya?
Sigiriya has many hotels near the site, but private villas near Sigiriya are available for rent if you like to look for something more personal. These villas are usually located within 20 kilometres of the main attractions.
23. Who wrote the lions of Little Rock?
The lions of Little Rock are mentioned in many different poems and songs, but King Kashyapa of Sri Lanka actually carved them.
24. Who built Sigiriya?
It was built in the early part of the 6th century B.C. by King Kashyapa, who ruled the country at the time, and his son Prince Mahinda. The king had fallen ill and thought that he could cure himself by building a palace on top of the mountain, which he believed to be his former home.
25. Is Sigiriya the 8TH wonder of the world?
Sigiriya is a historic site in Sri Lanka. In 1988, UNESCO designated it a world-historic site. There are many myths about this site, one of which is that it was the 8th wonder of the world.
26. Is the lion rock hike difficult?
Some people might say that going to Sigiriya for a hike is not difficult. However, it is often a challenge for many hikers due to the elevation change and steep path.
27. Is it better to stay in Dambulla or Sigiriya?
The general consensus is that staying in Dambulla is better than staying in Sigiriya. Dambulla is very close to the city centre and conveniently reaches all destinations by public transport.
28. Is Sigiriya worth visiting?
Sigiriya is a renowned tourist destination in Sri Lanka. King Kashyapa Munivar, who reigned for 33 years, erected it in the 3rd century B.C. Sigiriya is made up of solid rock, and its name is derived from the Sinhalese word "sigaru", which means "to see."
29. How does Sigiriya get water?
They have used water pressure and the gravitational pull of our planet to operate. The water was then channelled into the moat that encircles the summer palace by a canal. Next, they constructed a canal system to carry water from the moat into the water garden.
30. How far from Kandy to sigiriya?
If you are driving your own from Kandy to Sigiriya, the distance is about 2 hr 11 min (90.0 km) via Kandy Rd/Kandy – Jaffna Hwy/A9.
31. How far is damulla from sigiriya?
If you driving your own 25 min (17.3 km) via Inamaluwa – Sigiriya Rd/B162 and Ambepussa – Kurunegala – Trincomalee Hwy/Ambepussa – Trincomalee Hwy/Kandy Rd/A6
32. How old is Sigiriya?
Sigiriya is a rock fortress in central Sri Lanka. It was built around 250 BC and is one of the most important archaeological sites in the country.
33. How high is Lion rock Sigiriya?
The rock, which is so high that its top overhangs the sides, stands 1,144 feet (349 metres) above sea level and 600 feet (180 metres) over the surrounding plain.
34. How far is Sigiriya from Colombo?
If you drive alone, the journey will take 3 hours 37 minutes (177.2 kilometres) via Ambepussa – Kurunegala – Trincomalee Highway/Ambepussa – Trincomalee Highway/Colombo Rd/Kandy Rd/A6.
35. How to get from Anuradhapura to Sigiriya?
If you drive your own, 1 hr 32 min (77.8 km) via Kandy Rd/Kandy – Jaffna Hwy/A9 and Kandy Rd. 1 hr 39 min (72.9 km) via Kandy Rd/Kandy – Jaffna Hwy/A9 and A11 . 1 hr 58 min (85.8 km) via Talawa Rd/B213 and Kandy Rd
36. How long does it take to climb Sigiriya?
The trek up and down the cliff will take between 1.5 and 3 hours. (Depending on your fitness level, age, and the number of people.)
37. How many steps up Sigiriya rock?
There are around 1,200 stairs to the summit of the rock, where you will be rewarded with panoramic views and, without a doubt, a feeling of achievement for successfully completing the journey.
38. How much does it cost to climb Sigiriya Rock?
Locals are permitted to access the venue after paying an Rs50 admission charge. Foreigners will be charged USD 30. This also gives you entry to the Sigiriya Museum.
39. How to get to the top of Sigiriya?
It takes a bit more than an hour to reach the top if there are many people present. The total number of stairs to the top is around 1,200.
40. How to get from Colombo to Sigiriya?
The most common route is along the A01 from Kandy Road to Ambepuss, passing via Kurunegala on the A06. Depending on traffic, you should expect to reach Sigiriya in no more than three hours. The alternative is to use the Katunayake Expressway.
If you choose to go by bus, keep in mind that it will take longer than driving in a taxi or renting a vehicle. Take the 15 bus to Anuradhapura or the 48 bus to Kaduruwela from Colombo, or the 49 bus to Trinco and alight at Dambulla or Habana. From Habana, you'd ride a three-wheeler to Sigiriya for LKR 300, despite the lengthy trek almost exhausting you.
41. How to go to lion rock Country Park?
The Sigiriya Water Garden is located on the slope of Sigiriya Hill, surrounded by limestone cliffs, overlooking the ancient city of Polonnaruwa. The garden was carefully constructed using canal-lined channels fed from both sides with water sources – one from a natural spring at the foot of the hill and another from the nearby river Mahaweli Ganga on one side, while another pond receives pond water from streams on two other sides.
42. How to get to Sigiriya, Sri Lanka?
BY BUS | From Colombo Fort, take a bus to Anuradhapura or Kurunegala (route 15) and change at Dambulla. Additionally, you may use bus #87 or #759.
Tickets to Dambulla cost roughly $2-3, and the travel to Sigiriya takes around 6-7 hours.
BY TRAIN | Between Colombo and Dambulla, there is no direct rail service. The only alternative is to go from Colombo Fort to Habarana and then arrange for private transport. Again, in our view, it is not worth it.