Sri Lanka is a world-famous holiday destination situated just above the equator, in the middle of the tranquil blue waters of the Indian Ocean, just below the Indian subcontinent. The location and the weather of this beautiful island make it the perfect tropical paradise for all those who love to travel as well as for those who love to explore wildlife and tropical vegetation.
With so many options and adventures to choose from, having a private tour in Sri Lanka is one of the best decisions you will make. Vacationing in Sri Lanka while exploring the many ancient cities, lush forests, rich culture and heritage is not something that can be done in a day or two, which is why most people choose to spend at least one week in Sri Lanka during their holiday.
It is important that you plan your Sri Lanka private tour very carefully so that you can get the best of what you spend, and this will provide you with some insights on what to focus on when you are planning. Sri Lanka offers so many options for travellers. It holds a remarkable amount of ancient ruins, making it a treasure chest for archaeology lovers.
It also contains many geographical variations such as mountains, canyons and plains, making it a dream come true for hikers and adventurers. The country also is home to many national parks, jungles and forests which are rich in flora and fauna making it a paradise for wildlife enthusiasts.
Sri Lanka Private Tours Plan - How to
When you are planning to spend a vacation in Sri Lanka, you probably already know what Sri Lanka has to offer. Beautiful beaches for beach lovers, the cultural triangle ruins, the many forests for wildlife jeep safaris, the places you can explore are endless once you are in Sri Lanka. If you do not know much about Sri Lanka's many things to do, you should start by doing research on the country. You will be able to find out all the wonderful locations and things you like.
Then you can make a list of those places and things to do. When you are planning out the things you want to do, you will be able to find things you will feel most enthusiastic about doing. Adventures, treks, family activities and many more are Sri Lanka's speciality which you will find very exciting to experience. Out of the list of activities and destinations you make, decide what your must-do activities are, keeping in mind who you are travelling with and their preference as well as your own.
Being a much-adored famous tourist destination in the world, find Sri Lanka tour companies and travel agents with whom you can travel with. Most of these inbound tour operators in Sri Lanka offer travel itineraries of many types that suit any kind of traveller. Whether it be a wildlife enthusiast, an adventure-seeker or someone who just want to relax on a beach, these companies offer all kinds of travel packages.
However, if you are keener on having your own private tour in Sri Lanka, these companies and agents are always at your disposal to give you your own unique itinerary depending on what you seek to experience. You just have to pick the right Tour itinerary or you can request to customize as you need. If not, you can just do your research and plan your tour yourself, only involving third parties for transportation and other related services.
Customize Your Private Tour Package
When you are choosing to arrange a private tour instead of set itineraries offered by the many tour companies in Sri Lanka, your options are endless. With the country being only 65,610 square kilometres, there are so many experiences clustered together and by spending two weeks on the island, you will probably be able to enjoy almost all of them.
The best part about arranging a private or tailor-made vacation with a tour company is that you will be able to focus on the most preferred experiences of your travel buddies and yourself. If you are a hiker and you are travelling with a surfer and a wildlife enthusiast, you will be able to customize your tour serving all the different kinds of adventures you and your buddies are expecting.
If you are travelling with your family, a customized tour will always be the best option. You will be able to provide your kids with kid-friendly activities and relaxing environments for the elderly also when you are planning Sri Lanka private tours.
It is important to keep in mind that almost all the set itineraries offered by travel agencies are mainly focused around one genre such as historical, adventurous, environmental or cultural. So, if you are planning to mix things up a little, having a customized tour organized via your preferred tour company is always the best.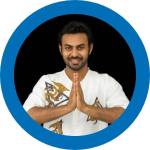 "

Hi, I am Manoj, from See Ceylon Tours. We are online for global customer care service is 24/7 365 days" 
You can live chat with our customer care agent on our website
You can submit your tour details to us on our website form or send us an email
However, If you prefer to reach us, we are just a few minutes away to cater to all your travel needs."
– Manoj –
Travel Consultant
Contact us via Email:  info@seeceylontour.com
Do not hesitate to contact us. We are an expert team and we are happy to talk to you.